Education
Pointe-à-Callière welcomes more than 100,000 young people a year. A stimulating school program and activities for day cares and day camps are animated by highly qualified guides who accompany the young people and their teachers and monitors in order to provide a rich experience. Everything is brought to bear on delighting, entertaining and informing the adults of tomorrow in a museum environment that is designed specifically for them.
Information and reservations
Educational activities
Pointe-à-Callière's lets you learn history from the ground up
Day camps and child care
Pointe-à-Callière offers fun activities that involve learning, creativity, and role-playing
Game Zone
Our interactive games are both fun and educational!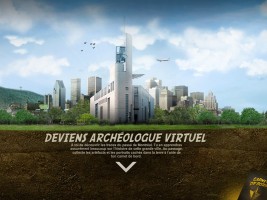 Yours Truly, Montréal
Become a virtual archaeologist by collecting artefacts and as well as portraits hidden in the grounds. Complete your log book, and you win!