School visits
Secondary Cycle 1
Water on the Move: The Youville Pumping Station
90 minutes without multimedia show
80 people max.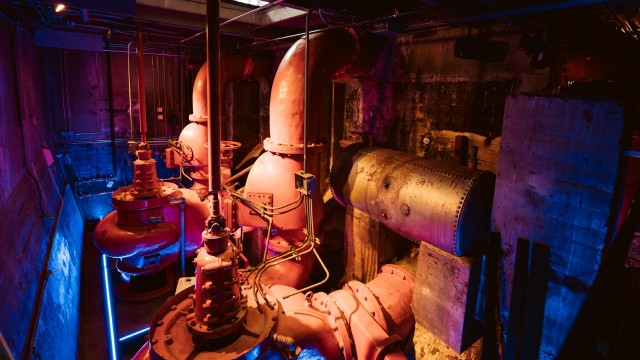 Photo : Caroline Bergeron
Pointe-à-Callière presents a new educational experience in the Youville Pumping Station. Take a dive into the incredible but true world of wastewater!
The former Youville Pumping Station (1916-1990) is at the heart of this surprising, multi-faceted adventure! Immersed in this original industrial heritage site, young people will face several fascinating challenges that address fundamental historical, technological, and environmental issues. The best possible solutions to problems encountered in each era have been based on the technology available at the time. Young people will get to play along and have a hand in the choices made, right here in the renovated Youville Pumping Station. Both entertaining and educational, the exhibition also offers a chance to broaden their horizons on environmental questions of concern.
Through various challenges and teamwork, this activity offers a fun and unique opportunity to raise young people's awareness of public health concepts and the environment.
What will the students experience?
The Museum offers them a novel experience, in which action and collaboration go hand-in-hand with discovery, fun, reflection, and engagement!
During their visit, students will:
Explore the remains of the Youville Pumping Station, where they will get to see impressive industrial structures.
Learn about the station's role and operation through interactive technological and mechanical devices.
Discover how, from past to present, we have found solutions to water-related issues in an urban setting.
Get introduced to the concepts of permeability and planning to manage wastewater in an urban milieu.
Create links to the past, the world around them, and the future.
Concepts covered in the activity
Heritage: Exploring the Youville Pumping Station and the former collector sewer, part of Montréal's important industrial heritage.
History: Understanding past and present solutions to water-related problems in an urban setting, including access to drinking water, the evolution of hygiene requirements, and impacts on human health.
Environment: Reflecting on our approach to the environment and our use of water as an essential natural resource.
Competencies developed
The activities on this interpreted tour are in line with the aims of the Quebec education programs and help develop the following competencies.
The activities in this workshop are in keeping with the aims of government education programs in that they help develop certain competencies.
They address broad educational concerns related to environmental awareness by encouraging students to create a dynamic relationship with their surroundings, while maintaining critical judgment concerning the exploitation of the environment and technological development.
By examining the urban territory of Montréal and its development from the 17th to the 21st centuries, students will reflect on issues surrounding water supply and wastewater management by applying the following subject-specific competencies:
In Québec
Geography
Urban territory (Metropolis)
Develop a sense of personal responsibility with respect to global issues (based on information gathered on the management of drinking water in Montréal from the 17th to the 21st centuries).
Science and Technology
Seek answers or solutions to scientific or technological problems.
Make the most of one's knowledge of science and technology.
In Ontario
Science and Technology
Make connections between science, technology, society, and the environment:

Analyze the long-term societal and environmental repercussions of various practices and current uses of energy and natural resources.
History
The creation of Canada (1850-1890) and its evolving society; expansion of Canada, major political, economic, and social changes.
The wave of immigration Canada experienced during this period.

Explain the principal social and economic changes Canada experienced between 1890 and 1914 (e.g., intensified urbanization, technological advances, development of urban infrastructures, etc.)
Science and Technology
Evaluate the impact of scientific and technological progress on society and the environment:

Analyze the impact of various technologies (e.g., development of the electronic microscope) on our understanding of cells and cellular processes.
Assess how scientific breakthroughs in the field of cells and cellular processes can be both beneficial and detrimental to health and the environment, as seen from various perspectives (e.g., from the viewpoint of a farmer, a pesticides manufacturer, a scientist, a person suffering from a severe illness).
Through a partnership with
Information and reservation
Please fill out our online form and we will contact you shortly to complete your reservation.
---
For any assistance:
[email protected]
514 872-9127
Please note that we cannot guarantee a booking request made less than 4 weeks in advance.
Hours and rates of visits and group activities
September 2023 to April 2024
Tuesday to Friday, 9:30 am to 5 pm
May-June 2024
Tuesday to Friday, 9:30 am to 5 pm
+ Mondays December 18, 2023, June 10 and 17, 2024
Rates in effect as of September 1, 2023
Accompanying Adults (1 for 15 students)
Free
3rd or additional adult
$18
Lunch room
A lunch room is available for groups.
Reservations required.
Free if taking part in two activities during the day.
Access to the Museum
Consult instructions.
There is free bus parking on de la Commune Street, at the corner of Place Royale.