School visits
Elementary Cycle 1
Elementary Cycle 2
Elementary Cycle 3
Come aboard! Pirates or Privateers?
90 min. with workshop
80 people max.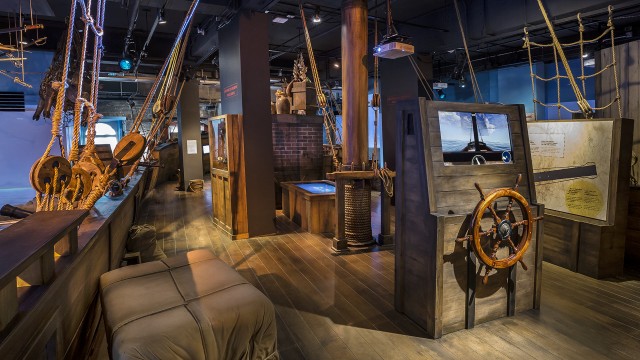 Photo: Laura Dimitriu
Pirates and privateers tackled challenges that were often quite similar—but which of the two operated more legitimately? Come learn all about these colourful and surprising characters as you enter their world and embark on an adventure… Enlist, set sail, and experience life aboard ship. Come along! Prepare to board, shipmates!
While on this interactive adventure, your students will put their skills to the test and learn if they've got what it takes to become privateers! Based on their individual personalities, they will be assigned specific roles aboard ship, working as a team to rise to the challenge and accomplish various tasks. Intelligence, physical strength, imagination, and cooperation are all brought into play during this adventure on the high seas.
This interactive and immersive experience will delight children as they are immersed in the fascinating world of the privateers who left their mark on Montréal and Québec history in the 17th century. Come aboard!
What will young people experience during this exploratory exhibition?
Aboard ship, your students will be divided into sub-groups according to their roles as part of the crew. Working in teams, they will tackle interactive challenges relating to their on-board occupations, as they learn the nuts and bolts of life at sea.
They will explore the world of piracy by being part of a story in which they play the role of the ship's crewmembers.
Through experience and play, they will learn about the roles of the captain, the gunner, the cook, and the deckhand. Armed with their new knowledge, they will share what they have learned with the rest of the crew. Learning is both collective and participatory.
They will be part of an adventure tale, punctuated with several surprises!
Concepts covered in the exploratory exhibition
Differences and similarities between pirates and privateers.
Pierre Le Moyne d'Iberville, a Montréal privateer who left his mark on our history in the 17th century, along with other legendary figures in the world of piracy.
Enlisting, life aboard ship, the crew's various occupations, and the spoils that were sought.
Economic realities: triangular trade, means of transportation, naval warfare.
Workshop — Make and navigate your pirate ships!
In this workshop, students will get to choose from various types of materials to build their own pirate ships! Sponges, sticks, lids, and cork can be used as the ship's hold, and various fabrics will be available for designing the best possible sail! But will their ships pass the ultimate test? At the end of the workshop, students will put their ships in the water and race them to see which craft is the best of all! Shipmates… prepare to board!
Competencies developed
The activities on this interpreted tour are in line with the aims of the Quebec education programs and help develop the following competencies.
Québec
Academic competencies:
Geography, History and Citizenship Education
Primary
The Study of Society: French and Canadian society in New France between 1680 and 1760
Understanding the organization of a society on its territory:

Situating and grasping the scale of the territory of New France.

Interpreting change in a society and on its territory:

Economic activity, including the fur trade, fishing, etc.
Political reality: the king, wars
Means of transportation and communication: boats and waterways

Determining the influence of people and the impact of events on social and territorial organization:

Pierre Le Moyne d'Iberville
Triangular trade
Information and reservation
Please fill out our online form and we will contact you shortly to complete your reservation.
---
For any assistance:
reservations@pacmusee.qc.ca
514 872-9127
Please note that we cannot guarantee a booking request made less than 4 weeks in advance.
Hours and rates of visits and group activities
Elementary Students
$10.00
Accompanying Adults (1 for 15 students)
Free
3rd or additional adult
$17
Role of accompanying adults
Divide the group into smaller sub-groups according to the number of groups specified on your reservation. The number of groups required corresponds to the number of accompanying adults required during the visit.
Follow the group at all times to maintain discipline and manage particular cases. The mediator or guide will lead the visit. Accompanying adults must stay with and supervise the group during lunch time.
Lunch room
A lunch room is available for groups.
Reservations required.
Free if taking part in two activities during the day.
Access to the Museum
Consult instructions.
There is free bus parking on de la Commune Street, at the corner of Place Royale.