Virtual Activity
Secondary
Let's Connect with History
60 min.
One class with a maximum of 24 people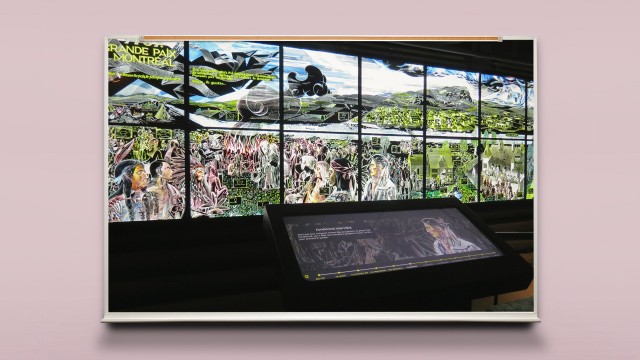 Photo: Pointe-à-Callière
Have Pointe-à-Callière and its guides join you in the classroom! With our virtual guided tours for schools, your students can further their knowledge of history and explore remarkable archaeological remains and artifacts… It's just like having the whole class at the Museum in person!
In this educational activity, students will explore the history of New France and learn about First Nations living on the territory in the 17th and 18th centuries, their ways of life, and the importance of trade and relations between these various groups. Through the presentation of archaeological remains, artifacts, and models of First Nations' dwellings, students will find out how various Indigenous peoples lived on and used the territory.
Activity Format
With its hybrid format, this educational activity will first take you on a remote journey through Pointe-à-Callière—a virtual guided tour created especially for school groups and led by one of our qualified guides—during which you will explore the history of our archaeological sites. Your students will have an opportunity to see the Where Montréal Was Born exhibition and the remains of Fort Ville-Marie, The Great Peace of Montréal exhibition, and certain elements of the Crossroads Montréal exhibition. The activity also examines the arrival of the Europeans in the St. Lawrence Valley and their first contacts with Indigenous peoples, their relations and trade, and key events in the New France era, including the signing of The Great Peace of Montréal in 1701.
After the virtual tour, our guide will stay online with you for an interactive activity, giving your students a chance to further explore the content covered on the tour. Students will learn about various artifacts and the principles of archaeology, providing a better understanding of the past and addressing the notions of treaties, alliances, and trade between First Nations and Europeans.
One of our guides will be on hand throughout the activity to answer your students' questions. The activity is focused on dialogue, observation, and discovery.
How it works
This activity takes place on Microsoft Teams. When you make your reservation, you will receive a personalized link so you can log on at the scheduled date and time and connect with our guide, who will host your group remotely.
Equipment
You will need:
1 computer with an Internet connection (with activated speakers, microphone and webcam)
1 projector or screen (IWB or TV)
Educational competencies
The workshop activities are in line with the goals of the government's educational program and will help students develop specific competencies.
In Québec
Geography
Indigenous territory (Cycle 1)
Read about the organization of a territory:
-Grasp the impact of human actions in the territory.
History and citizenship education
European expansion in the world: Indigenous Peoples (Cycle 1)
The first occupants; The emergence of a society in New France (Cycle 2)
Examine social phenomena from a historical perspective:
-Explore social phenomena in the light of the past.
-Consider social phenomena in terms of duration.
-Look at social phenomena in their complexity.
Interpret social phenomena using the historical method.
Strengthen the exercise of citizenship through the study of history.
Information and reservation
Please fill out our online form and we will contact you shortly to complete your reservation.
---
For any assistance:
[email protected]
514 872-9127
Please note that we cannot guarantee a booking request made less than 4 weeks in advance.
Schedule and rates
Tuesday to Friday, 9:30 am to 4 pm
$200 including taxes, fixed rate for one class
Confirmation
You will receive confirmation of your reservation by email. Please sign and return the confirmation to the Museum by email within five (5) days of receiving it.
Cancellation
If you cancel fewer than ten (10) days before the reserved date, you will be charged 30% of the activity fee.
Payment
The total amount is payable ten (10) days after your presentation. Please make your cheque out to Pointe-à-Callière.