Graduate Studies
College
University
Architectural Tour
90 min. with multimedia show
60 people max.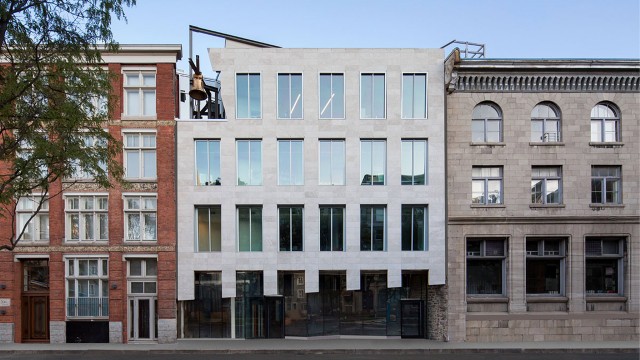 Photo: Stéphane Brügger
College level and adults only
Discover Pointe-à-Callière with a tour of the architectural concept behind Montréal's archaeology and history complex. Your students will discover the sources of inspiration and challenges that architects, archaeologists and museologists have tackled in order to build the Museum over archaeological remains.
Pointe-à-Callière has seven pavilions and structures built between 1992 and 2017:
• The main Éperon Building and the Marketplace, which were built in 1992 by renowned architect Dan S. Hanganu and the architectural firm Provencher Roy + Associates.
• The Old Custom House, designed by architect John Ostell and built in 1837.
• The Mariners' House, inaugurated in 2013 by the same consortium that built the Éperon Building. 
• The Youville Pumping Station, built in 1915 but not open to the public until 1998.
• Fort Ville-Marie and the first collector sewer, also designed by Dan S. Hanganu and Provencher Roy + Associates in 2017.
Built over the birthplace of Montréal and a number of archaeological sites, Pointe-à-Callière is recognized as a historical site under Quebec's Cultural Heritage Act. The buildings highlight these historic sites, protect the ruins, and showcase Montréal's architectural evolution.
Please note that the tour takes place both inside and outside the Museum. Plan your visit accordingly!
Visit goals:
• Present architect Dan S. Hanganu, his vision of the Museum, and projects to expand the complex.
• Understand the concepts used to construct and integrate these buildings so that they could fulfill their purpose to enhance Montréal's birthplace and its archaeological remains.
• Highlight sources of inspiration and challenges for the construction, such as archaeological elements and active sewer and water infrastructure.
• Understand the construction processes and the role of architecture in Montréal's spirit.
• Learn historical, archaeological and architectural facts as well as new terminology.
• Pass on values about the need to conserve and protect our historical heritage.
• Discover and appreciate the complexity of the site, as a whole and as individual parts, from a historical and archaeological standpoint and in our current context.
Learning approach:
Through facts, events, construction techniques and architectural elements, your students will discover the different stages of the creation and evolution of Pointe-à-Callière, the Montréal Archaeology and History Complex.
Programs:
• Architectural technology
• Bachelor of architecture
• Bachelor of science in architecture
• Graduate diploma in modern architecture and heritage
• Any other history or art history program or courses on architecture
Information and reservation
Please fill out our online form and we will contact you shortly to complete your reservation.
---
For any assistance:
reservations@pacmusee.qc.ca
514 872-9127
Please note that we cannot guarantee a booking request made less than 4 weeks in advance.
Hours and rates of visits and group activities
September 2023 to April 2024
Tuesday to Friday, 9:30 am to 5 pm
May-June 2024
Tuesday to Friday, 9:30 am to 5 pm
+ Mondays December 18, 2023, 10 and 17, 2024
Rates in effect as of September 1, 2022
Accompanying Adults (1 for 15 students)
Free
Role of accompanying adults
Divide the group into smaller sub-groups according to the number of groups specified on your reservation. The number of groups required corresponds to the number of accompanying adults required during the visit.
Follow the group at all times to maintain discipline and manage particular cases. The mediator or guide will lead the visit. Accompanying adults must stay with and supervise the group during lunch time.
Lunch room
A lunch room is available for groups.
Reservations required.
Free if taking part in two activities during the day.