School visits
Preschool
Elementary Cycle 1
Inquisitive Beavers: Expedition in History
60 min. without multimedia show | 90 min. with multimedia show
60 people max.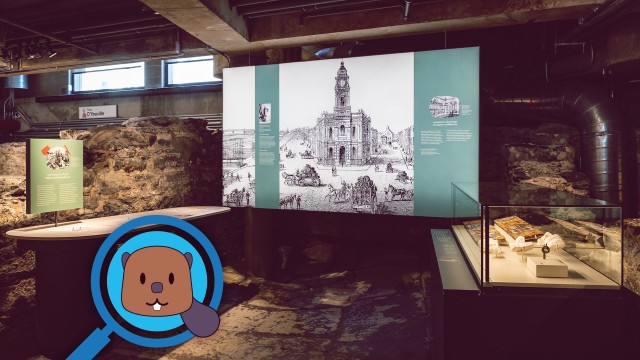 Patrick Desrochers
Because you're never too young to start learning about—and learning to love—history and archaeology, Pointe-à-Callière is inviting inquisitive youngsters from day camps and daycares to come visit the Museum!
Follow Mme Castor and our interpreter-guide through the Museum to meet the people who lived here before we did… and explore their history, thanks to the findings of archaeologists and historians.
On our tour, children will get to see and handle objects that archaeologists have discovered. Through these objects and models, they will learn how people of the past lived, here in Montréal. Over the course of our adventure—and through various interactive activities—, curious youngsters will explore the profession of archaeologist… and try their hand at it! Lastly, together we'll see how the history of Montréal continues to be written and how new communities contribute to it.
With this tour and its activities, young people will get to the heart of Montréal history. Keep your eyes and ears wide open… and get ready to explore Montréal!
Participants will also get to see the Generations MTL multimedia show, presented in a space outfitted with a 270-degree screen. Watch as the archaeological remains come to life! A countdown begins, the centuries roll by, an island appears, and then, a city. A captivating and memorable immersive experience!
What will the participants experience?
They will imagine the city as it existed in the past by examining models and handling artefacts.
They will explore a unique and fascinating place—Pointe-à-Callière Museum.
They will see authentic archaeological artefacts and explore the work of archaeologists in an entertaining participatory activity.
They will have fun handling objects from various eras—categorizing, comparing, and identifying them.
They will explore objects from Montréal's various cultural communities, opening their minds to diversity and discovering their place in the history of Montréal.
With this tour, we hope to:
Welcome and introduce younger children to the Museum and make sure their first experience is a pleasurable one.
Enhance the children's own culture while opening them up to the culture and history of Montréal and Québec and to the diversity of all individuals.
Cultivate the joy of exploring, discovering, and learning.
Introduce new knowledge related to subject areas, including social sciences.
Competencies developed
The activities on this interpreted tour are in line with the aims of the Quebec education programs and help develop the following competencies.
Quebec
In fostering the global development of children, it is important to allow them to grow in all areas at the same time (physical and motor, emotional, social, language, and cognitive), as the various areas of development influence and reinforce one another.
Emotional

Recognizing one's own characteristics

Understanding one's experience and one's own environment
Recognizing similarities with or differences from others when comparing oneself to peers
Social

Showing openness to others
Participating in group activities
Collaborating with others
Cognitive

Acquiring new knowledge relating to the subject areas, including social sciences
Using reasoning skills:

Proceeding by trial and error
Establishing connections between ideas
Comparing events, concepts, and ideas

Using imagination:

Taking part in symbolic play or role-playing

Taking action
Recognition of the cultural dimension is very important, as mutual understanding and discovery of others both play a role in bringing cultures closer together.
Children are introduced to practices from their own and other cultures
Visits to cultural venues and museums
Social Sciences:
Demonstrating an openness to and interest in other people's cultures
Asking questions about a variety of subjects or topics
Discovering and observing their physical environment: characteristics, natural elements, etc.
Observing their human environment (social roles, trades, etc.)
Discovering and recognizing elements that form part of their immediate geographical environment
Learning about and using time-related concepts (today, yesterday, tomorrow)
Information and reservation
Please fill out our online form and we will contact you shortly to complete your reservation.
---
For any assistance:
[email protected]
514 872-9127
Please note that we cannot guarantee a booking request made less than 4 weeks in advance.
Hours and rates of visits and group activities
Elementary Students
$10.00
Accompanying Adults (1 for 15 students)
Free
Additional Accompanying Adult
$15
3rd or additional adult
$18
Role of accompanying adults
Divide the group into smaller sub-groups according to the number of groups specified on your reservation. The number of groups required corresponds to the number of accompanying adults required during the visit.
Follow the group at all times to maintain discipline and manage particular cases. The mediator or guide will lead the visit. Accompanying adults must stay with and supervise the group during lunch time.
Lunch room
A lunch room is available for groups.
Reservations required.
Free if taking part in two activities during the day.
Access to the Museum
Consult instructions.
There is free bus parking on de la Commune Street, at the corner of Place Royale.