School visits
Secondary Cycle 1
Secondary Cycle 2
Digging in the Future
90 min. without multimedia show
80 people max.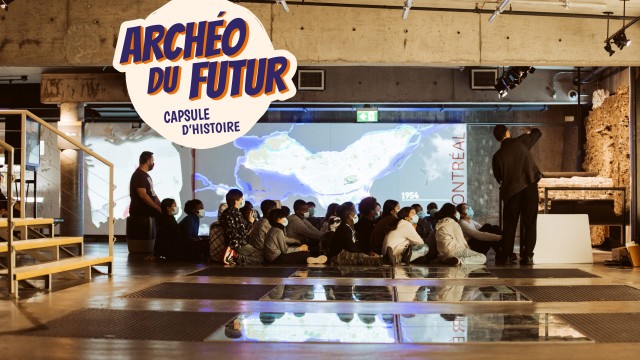 Photo : Arianne Bergeron / Pointe-à-Callière
1,000 years from now, what will remain of us? Probably oceans of plastic… mountains of outdated electronic devices. A fine mess to leave behind for our perplexed descendants!
Archaeologists of the future need you to help them understand our era. Become archaeology interns and create a prototype time capsule that will serve to represent the present-day and help future archaeologists comprehend our society and explore the history of Montréal, from yesterday to tomorrow.
By engaging in the archaeological investigation process, students broach ideas and handle objects, thinking "with their hands" about the traces that past and present societies leave to the future. In other words, they take inspiration from yesterday to leave traces of today for tomorrow.
What will students experience?:
They will step into the shoes of an archaeologist by following the scientific method of archaeology—based on research, analysis, and hypotheses—when faced with archaeological data.
They will reflect on the traces they are leaving behind for future generations.
They will explore, handle, and produce a prototype, and think about archaeology, the future, and the environment.
Concepts addressed in the activity:
Archaeology: learning about the steps in the scientific method used by archaeologists.
Careers: exploring the professions of archaeologist, historian, and archivist.
History: discovering Pointe-à-Callière Museum and some of its archaeological remains.
Environment: reflecting on our lifestyle's impact on the environment.
Competencies developed
The activities on this interpreted tour are in line with the aims of the Quebec education programs and help develop the following competencies.
Quebec
Knowledge of the world of work:
Sec. I-II: Academic preferences in relation to the job market
Sec. III: Occupational preferences and personal profile
Sec. IV-V: Personal perceptions and the reality of the world of work
Secondary I-II: Geography
Energy-producing regions: impact on the environment and hydrocarbons
Industrial regions: industrialization, commercialization, and environment
Metropolis
Secondary I-II: History and Citizenship Education
Competencies
Examine and interpret a social phenomenon using the historical method
Construct one's awareness of citizenship through the study of history
Secondary III-IV: History of Québec and Canada
Secondary III content: origins to 1840
Competencies – Secondary III-IV:
+ Characterize a period in the history of Québec and Canada
+ Interpret a social phenomenon
Secondary V — Contemporary world
Social issues (plastic and consumption)
Information and reservation
Please fill out our online form and we will contact you shortly to complete your reservation.
---
For any assistance:
[email protected]
514 872-9127
Please note that we cannot guarantee a booking request made less than 4 weeks in advance.
Schedule and rates
Accompanying Adults (1 for 15 students)
Free
Additional Accompanying Adult
$15
3rd or additional adult
$18
Role of accompanying adults
Divide the group into smaller sub-groups according to the number of groups specified on your reservation. The number of groups required corresponds to the number of accompanying adults required during the visit.
Follow the group at all times to maintain discipline and manage particular cases. The mediator or guide will lead the visit. Accompanying adults must stay with and supervise the group during lunch time.
Lunch room
A lunch room is available for groups.
Reservations required.
Free if taking part in two activities during the day.
Access to the Museum
Consult instructions.
There is free bus parking on de la Commune Street, at the corner of Place Royale.