Francization Program – Montréal with an Accent
90 min. with multimedia show
60 people max.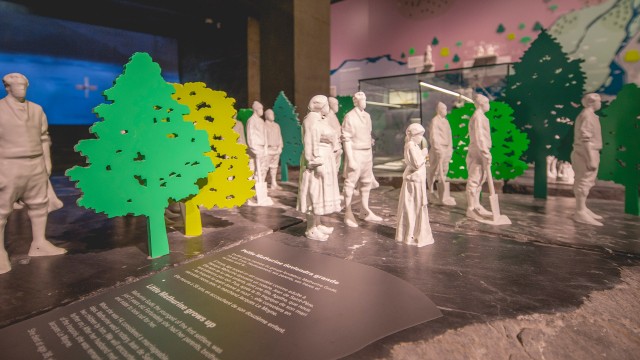 Marc-Antoine Zoueki
Starting September 2019
Tour offered in French only
To discover and understand Montréal, its birthplace, its history and the generations of people who built it, Pointe-à-Callière is a must for welcome classes and francization groups. Designed to facilitate francization and the integration of new immigrants, this activity spotlights the generations of newcomers who founded and built Montréal and continue to do so by actively getting involved in their new adopted city.
What will groups do during their visit?
Participatory visit focused on exchanging and sharing personal experiences
Commented observations of remains and archaeological and heritage sites
Questions and real-life situations
Role playing
Exploration of site and search for remains and objects
Competencies developed
The activities on this interpreted tour are in line with the aims of the Quebec education programs and help develop the following competencies.
Québec
Communicate orally in French
Learn about the culture of one's environment
Discover the history and common values of Quebec society
Become familiar with the geographical, historical, cultural and social characteristics of Quebec
Information and reservations
Hours and rates of visits and group activities
September 2019 to April 2020
Tuesday to Friday, 10 am to 5 pm
+ Monday December 9, 2019
May-June 2020
Tuesday to Friday, 9:30 am to 5 pm
+ Mondays June 1, 15, and 22, 2020
Rates in effect as of September 1, 2019
Accompanying Adults (1 for 15 students)
Free
Additional Accompanying Adult
$14
3rd or additional adult
$17
Role of accompanying adults
Divide the group into smaller sub-groups according to the number of groups specified on your reservation. The number of groups required corresponds to the number of accompanying adults required during the visit.
Follow the group at all times to maintain discipline and manage particular cases. The mediator or guide will lead the visit. Accompanying adults must stay with and supervise the group during lunch time.
Lunch room
A lunch room is available for groups.
Reservations required.
Free if taking part in two activities during the day.
Access to the Museum
Consult instructions.
There is free bus parking on de la Commune Street, at the corner of Place Royale.