A Museum for the whole family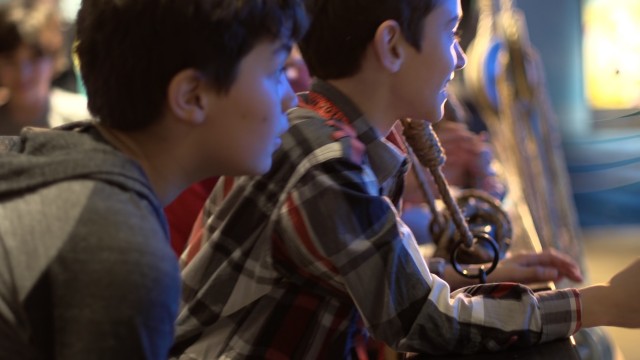 Families are important to the Museum; that's why we provide
original, diversified and creative programs.
A few practical tips
It is forbidden to eat or drink in the exhibition rooms of the Museum but an all-new area in the Old Custom Building—the Lunch Room, designed to look like an inn—has been made available for use by families. There you'll l find lunch and rest spaces (no food for sale on site). On weekdays, please take note that the seating of the Lunch Room are offered in priority to school groups visiting the Museum.
Please note that children under the age of 12 must be accompanied by an adult when visiting the Museum.
Enjoy your visit!
Infos
Book a specific time slot. Choose your date and time, and then come join us! Tickets available online or at the ticket counter.
---
RATES
Prices include access to permanent and temporary exhibitions.
Taxes are included.
*Upon presentation of a valid ID | **Family Ticket: Available for: 1 adult - 3 children (17 and under) / OR / 2 adult - 2 children (17 and under) / OR / 2 adult - 1 child (17 and under)
Opening Hours - Museum
Fort Ville-Marie - Quebecor Pavilion and the Memory Collector are temporarily closed. The date of reopening will be communicated at a later date.
Tuesday to Friday
10 am - 5 pm
Saturday and Sunday
11 am - 5 pm
Please note that the ticket counter closes 30 minutes before museum closing time.
Also featuring