A Museum for the whole family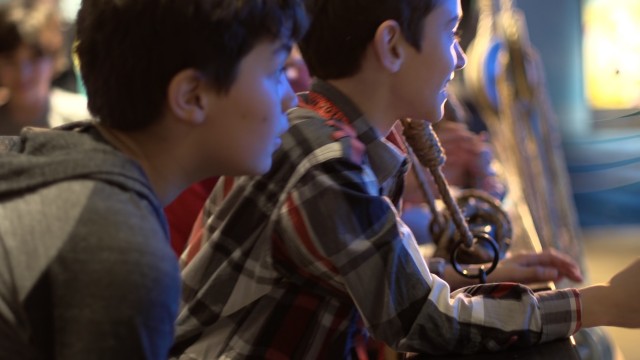 Families are important to the Museum; that's why we provide
original, diversified and creative programs.
Don't miss the interpretative tours, the permanent exhibition Pirates or Privateers?, Archaeo-adventure workshop, or our annual event the Pointe-à-Callière 18th-Century Public Market, seasonal activities like Strange Ghosts at Pointe-à-Callière and Who Is the Real Santa Claus?, and special activities organized for March break and lots more! Take a look at our calendar of activities!
If you're looking for a truly memorable place for a children's birthday party, talk to us!
A few practical tips
It is forbidden to eat or drink in the exhibition rooms of the Museum but an all-new area in the Old Custom Building—the Lunch Room, designed to look like an inn—has been made available for use by families. There you'll l find lunch and rest spaces (no food for sale on site). On weekdays, please take note that the seating of the Lunch Room are offered in priority to school groups visiting the Museum.
Please note that children under the age of 12 must be accompanied by an adult when visiting the Museum.
Enjoy your visit!
Rates
The ticket counter is located in the main building, at 350 Place Royale.
Opening hours - Museum
Tuesday to Friday
10 am - 5 pm
Saturday and Sunday
11 am - 5 pm
*Low season schedule will start on September 3: 10 am to 5 pm Tue-Fri, 11 am to 5 pm Sat. and Sun.
Also featuring
Many other possibilities!