Circuit and Guided tours
Free with admission - no reservations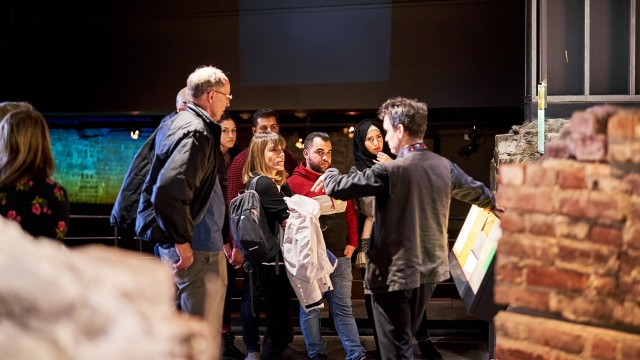 Photo: Romain Guilbault
Our guides offer tours and information sessions every day of the week. Whether it's your first visit or thousandth, whether you've come alone or as a family, the Museum has the right tour for you! Reservations aren't required, and tours are included in the price of admission.
Schedule may vary at any time
Fort de Ville-Marie: Where Montréal Began
Presentations (20 minutes)
Monday to Friday

English: 3:30 pm
French: 11:30 am and 2 pm

Saturday and Sunday

English: 3:30 pm
French: 11:30 am and 2 pm
Tour of the archaeological remains
Guided tours (60 minutes)
Every day


English: 2:30 pm
French: 1 pm
Opening hours - Museum
Tuesday to Friday
10 am - 5 pm
Saturday and Sunday
11 am - 5 pm
*Low season schedule will start on September 3: 10 am to 5 pm Tue-Fri, 11 am to 5 pm Sat. and Sun.
Pirates or Privateers? exhibition
The exhibition for the general public and families is self-guided. Tours with a interpreter-guide are available for this exhibit from Monday to Friday but only for kindergarten and elementary school groups (reservations required).
Also featuring
Many other possibilities!