Foundation News
October 21st, 2019
The Pointe-à-Callière Foundation is growing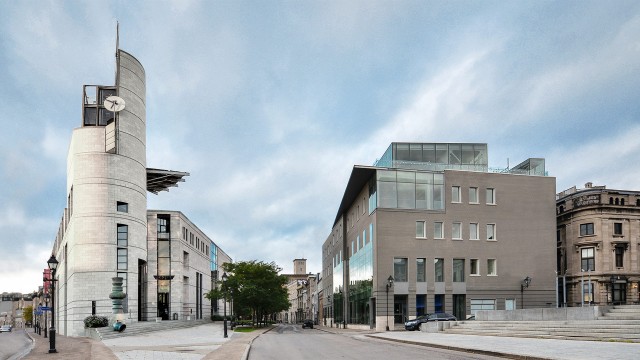 Photo: Caroline Bergeron
The Pointe-à-Callière Foundation continues to grow and is pleased to announce the appointments of Katia Coric as Philanthropic Development Advisor and Gabrielle Gagné and Philanthropic Activities Officer.
Katia Coric is a professional with over 15 years of experience in the management, planning, and coordination of special events and benefit activities. Until very recently, she worked for RJV Communications where she contributed to fundraising efforts and the organization of some 60 special events, including the Grand Military Ball for Montréal's 375th anniversary, the Montreal Highland Games, the Montréal du futur exhibition, and the Montreal Real Estate Foundation for Kids Grand Ball. The support she will provide at the Pointe-à-Callière Foundation will further its development and allow it to maintain ties with Foundation donors.
Possessing a Bachelor's degree in Art History, Gabrielle Gagné is completing her Master's in Museology at the Université du Québec à Montréal. She acquired her experience in event management and partnership development with such organizations as the MURAL and LNDMARK festivals and Musique Plus. She will be planning and organizing the Foundation's benefit activities, in addition to acting as a facilitator for the Next Generation of Philanthropists, a community of young people focused on Pointe-à-Callière.
About the Pointe-à-Callière Foundation
Created in 1993, the Foundation actively contributes to Museum projects: it supports Pointe-à-Callière's initiatives and growth, with a mission to create ties between the Montreal community and the Museum, while providing it with financial support. It organizes fundraising activities, solicits and receives donations, manages the Members and volunteers programs, and publishes Cité magazine.
Since it was established, the Foundation financed the acquisition of the Youville Pumping Station in 1998 and contributed to its development in 2000; purchased the Mariners' House in 2004 and helped with its development in 2012; funded the purchase of the old hangar on Place D'Youville in 2000; and lent its support to the development of Fort Ville-Marie and the collector sewer in 2017. The Foundation has also committed to making a financial contribution to the renewal of all multimedia shows since the Museum was established, to the updating of permanent exhibitions, and to the establishment of educational installations and education programs.
The Pointe-à-Callière Fondation is chaired by Robert Dumas, President and CEO, Sun Life Financial Quebec; its board of directors is made up of 25 volunteer administrators from various sectors of the business community in Montréal and the province of Québec.
About Pointe-à-Callière
Pointe-à-Callière, the birthplace of Montréal, is the city's largest history museum. Rising above a concentrated number of national historic and archaeological sites, the museum complex's mission is to raise awareness and foster an appreciation of Montréal's history, and to forge bonds with regional, national, and international networks.
Source: Claude-Sylvie Lemery, Director, Pointe-à-Callière Foundation.