Member
February 25th, 2020
Special Offer for Spring Break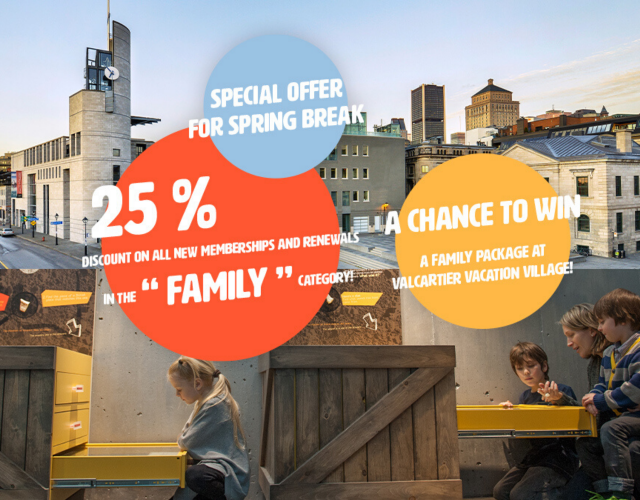 February 29 to March 7, 2020 - Special Offer for Spring Break
Pointe-à-Callière is offering you a 25% discount on all new memberships and renewals in the "family" category! Offer valid on-site and online.
If your current "family" membership hasn't yet expired, take advantage of our special offer to renew it now and get an extension.
New Members who wish to visit the Museum before having received their membership card can simply show their proof of purchase at the ticket counter.
In becoming a Member of Pointe-à-Callière, you will gain unlimited access to a world of discovery, while enjoying a range of exclusive benefits. By your second visit, your membership will have already started paying for itself. Take advantage of free admission to the Museum and its exhibitions at all times, get invited to openings of temporary exhibitions, use the fast-pass option at the ticket counter, enjoy discounts reserved for Members… and more!
A CHANCE TO WIN ! A family package at Valcartier Vacation Village!
Each new "family" membership or renewal gets a chance to win a one-night stay at Valcartier Hotel, including two passes for the outdoor waterpark—a $545 value! A memorable family getaway—guaranteed!
Contest ends on March 7, 2020 at 5 pm.
The winner will be contacted on Wednesday, March 11, 2020 at 1 pm, by telephone or by email.