Citizen Action
March 29th, 2023
Nous sommes Montréal, creating with words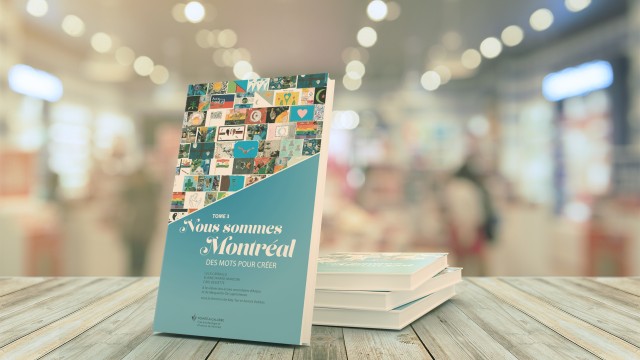 Pointe-à-Callière has produced a third edition of Nous sommes Montréal, in collaboration with three artist-mediators, two high schools, and 46 students of ages 13 and 14. The Nous sommes Montréal project aims to further young people's involvement in culture outside the classroom, tying together history, poetry, performance, and visual arts.
Since September 2022, this inspiring extracurricular project has proven to be a driving force for a group of students from École Marguerite-De-Lajemmerais and two groups from École secondaire d'Anjou.
Through their 46 poems—which use the flag of Montréal and the history of the communities that built the city as a starting point—the young writers examine the city's past, present, and future. Digging into the history of Montréal—either as their birthplace or their new home—the students position themselves as stakeholders and citizens for the city's future. Tinged with nostalgia, sadness, hopes, and dreams, the poems serve as open windows onto Montréal's youth.
Poems as images
To accompany their written works, the young people created collages that are both abstract and artistic reflections of their poems. Evoking new flags for Montréal, the visual elements use new colours and symbols to include communities that are building and shaping the Montréal of today.
A multi-phase creative process
After exploring the basics of poetry with poet Carl Bessette, the young people took a deeper dive into the world of words to create their own works, working with poet Lula Carballo. Next, they transformed their words into images, producing works of visual art alongside artist Élaine Fafard-Marconi. To prepare to recite their poems at the launch event held at the Museum, they were introduced to spoken word poetry, guided once again by poet Carl Bessette.
These workshops were held over a period of 15 weeks, getting the students ready to read their works aloud before an audience at the Museum on March 16, 2023. To conclude the project on a high note, participants each receive copies of the poetry collection they created, which they can share with their families, friends, and teachers.
The valuable insight of today's youth
Reflecting Montréal's diversity, the groups of students are made up of Montrealers by adoption who have made their way to the city in the past two years, as well as youngsters born in Montréal. They have joined their diverse voices to take part in this project that gives them an opportunity to explore Montréal's history as they create new works inspired by their city.
By taking part in this 3rd edition of Nous sommes Montréal, these young people are providing a personal and intimate look at the city, its history, its landscapes, and its activity. With this project, Pointe-à-Callière continues to raise awareness and foster an appreciation of Montréal, past and present, not to mention that of our future generations.
A fourth tome is underway!
Great news: the Francine Lelièvre Fund will finance the fourth edition of the Nous sommes Montréal project.