A Word from the Founder
Inventing and building a museum
I was born by the sea, in Gaspésie. It was such great luck because waves and sky as far as the eye can see are the stuff of dreams, and I believe dreams are the substance from which all things emerge. As dazzling as it may be, the sea can also be fearsome. The working fishermen taught me from a very young age how to do a lot with very little and stand firm, come hell or high water! More than anything, I had the immense privilege of being handed down values—like the importance of staying true to oneself and granting oneself the freedom to chart one's own course—that have stayed with me all my life. Indeed, my parents are the ones who encouraged me to take the path less travelled.
The young woman from Gaspésie chose to pursue her studies in Montréal, and I was the very first girl from the village to go to university. I returned home with my degree and began my career as a college history teacher. As a volunteer, I helped define the concept behind the Musée régional de la Gaspésie, dipping my toe into the waters of heritage preservation and project management. I was so fascinated by the experience that I left teaching to join a multidisciplinary team at Parks Canada—an opportunity that turned out to be a true revelation. I was amazed to see so many experts around the same table, from geologists and architects to archeologists and urban planners, who each had their own visions for the projects. I felt as if the entire world had opened up! There I was leading the efforts to showcase 26 historical sites and 4 national parks. I was 40 years old and working at a job I loved when I was offered the position of exhibitions director at the Musée de la civilisation, whose creation was just getting underway in Québec.
On the heels of this great success, I founded a museum consultancy firm and contributed to projects in Québec, Canada and abroad. In November 1989, I was entrusted with an exceptional project that called upon all the experience I had gained thus far: invent and build a museum over what remained of the site at which Montréal was founded. A newcomer that had to take its place, the institution was to be the 14th museum dedicated to the history of Montréal. From the time Pointe-à-Callière opened in May 1992 to mark the 350th anniversary of the founding of Montréal, the public's response was so invigorating. Just a year later, the Louvre Museum recognized Pointe-à-Callière as one of the world's leading archeological sites and invited me to debate with directors from Pompeii, Luxor, Xi'an and Templo Mayor with 1 000 museologists from around the world in attendance.
Though it had been propelled onto the world stage, the Museum still had to attract visitors. I believe that coming in contact with other cultures helps us better discover our own identity. So, in addition to the permanent exhibition on the history of Montréal, we set out to feature international exhibitions showcasing rare objects from around the world. More than once, I engaged the Museum in negotiations with faraway countries in especially challenging situations. We had to have faith and develop tailored strategies to be permitted to exclusively premier and present cultural heritage artifacts, such as the Dead Sea Scrolls, here in Montréal.
Yes, working with international partners can be like facing a gale, but the Museum's credibility was built one success at a time. Then, one day, the world's leading institutions placed their trust in us, and, after 28 years, Pointe-à-Callière transformed into a wholly unique archeology and history complex that creates an underground connection between archaeological sites and heritage buildings.
Indeed, it is because Pointe-à-Callière emphasizes the values of audacity and excellence in our exhibitions and visitor services that 500 000 people from Montréal and around the world honour us with their presence year after year (before the pandemic torpedoed our success, that is). These values, which were conveyed to me when I was young, nurtured the Museum's spirit and certainly enabled me to support the teams as we grew and grew.
Today, I must admit I have a feeling of angst at the idea of letting go of the sites steeped in history that have been such an important part of my life and a twinge of sadness when I think of saying goodbye to all the Museum's teams, members, visitors, partners, donators and administrators, who have ensured the good governance of the Museum and Foundation for so many years. I want to thank each and every one of you for taking part in this marvellous adventure. I also want to sincerely thank the city of Montréal, all its mayors since 1992 and all the officials and cultural teams who enable us to create such strong ties with citizens.
I am convinced of one thing: while I drove the Museum's projects forward with my heart and my head, the thousands of people who laid the stones, one by one, along with me shared this dream, which took on new life in projects and successes. I leave the Museum with the satisfaction of having been able to make a difference by giving Montréal's heritage and birthplace back to Montrealers.
From the bottom of my heart, thank you!
Francine Lelièvre
Founder of Pointe-à-Callière
Executive Director from 1992 to 2020
Francine Lelièvre's legacy
As she steps down after 30 years, Francine Lelièvre leaves Montrealers a tremendous legacy. The city's Archaeology and History Complex has taken its place as a world-class museum that turns a spotlight on the site at which Montréal was founded. She has a built a foundation so solid that it will serve as the cornerstone on which the Museum builds its future. Theses facts paint a picture of her greatest successes at Pointe-à-Callière.
Spectacular growth
Under Francine Lelièvre's leadership, the Museum experienced spectacular growth.
+ Initially designed to welcome 150 000 people annually, the Museum hosted 500 000 visitors in its 26th year of operation.
New pavilions and infrastructure
Francine Lelièvre oversaw the Museum's creation and the major expansion projects that made it a world-class institution. The following pavilions and infrastructures were added to the Éperon, Marketplace and Old Custom House buildings inaugurated in 1992:
+ D'Youville Pumping Station;
+ Mariners' House;
+ Fort Ville-Marie;
+ Montréal's First Collector Sewer;
+ Design plan to transform the firehouse into a pavilion for our youngest visitors, children 1 to 6 years old (project currently underway);
+ Conservation plan and preliminary project to showcase the heritage component of silo no.5 (project currently underway).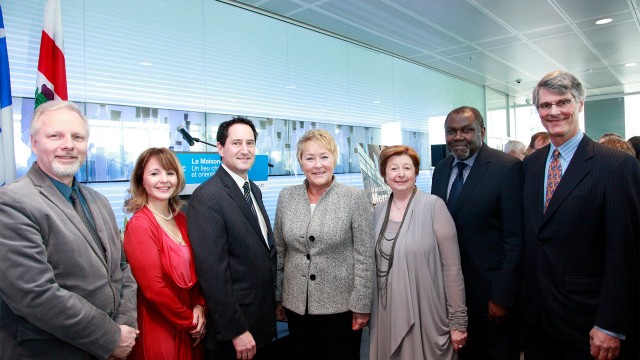 Inauguration of the Mariners' House in 2013
Photo: NH Photographes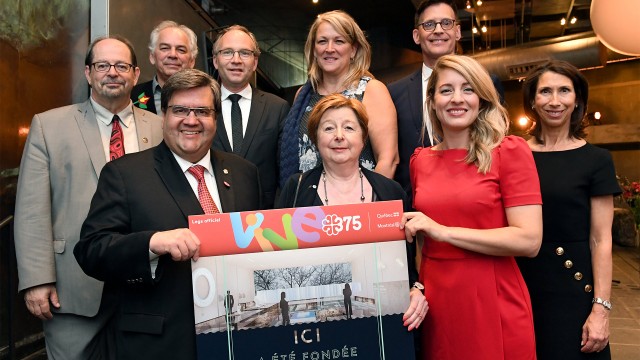 Inauguration of the Fort Ville-Marie during the 375th anniversary of Montreal in 2017.
Photo: NH Photographes
Marché-Sainte-Anne-et-du-Parlement-du-Canada-Uni archaeological site
Francine Lelièvre led the Museum and its teams in three major archaeological digs (2010, 2013 and 2016–2017) on the site of Marché Saint-Anne and the Parliament of United Canada at Place D'Youville in Old Montréal. She undertook the preliminary studies to feature this monumental historical and archaeological site and the second section of Montréal's first collector sewer (project currently underway).
Headlining exhibitions
Francine Lelièvre supervised the development of:
+ 51 national and international temporary exhibitions, including many exclusive presentations and world premieres;
+ 4 innovative multimedia shows;
+ a permanent exhibition that was renewed three times in the Éperon Building, archeological crypt and Old Custom House;
+ a permanent exhibition on Fort Ville-Marie;
+ a permanent exhibition in D'Youville Pumping Station;
+ the Archaeo-Adventure simulated archeological dig site;
+ the Pirates or Privateers? exhibition for families inaugurated in 2013 and renewed in 2020;
+ dozens of exhibitions in other venues and on tour in Canada and abroad.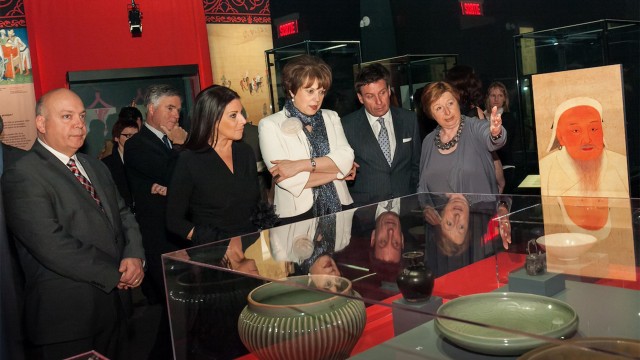 Inauguration of the exhibition Marco Polo - An Epic Journey, in 2014
Photo: Chantal Mathieu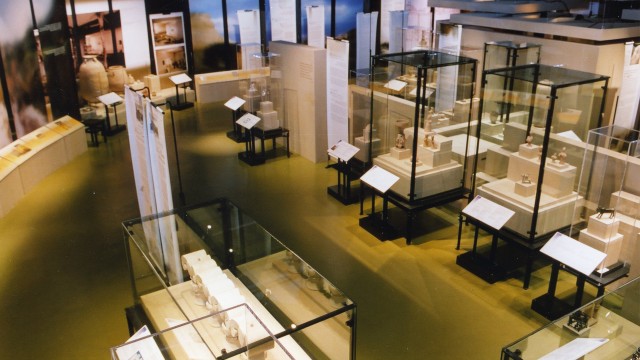 Photo of the exhibitionArchaeology and the Bible – From King David to the Dead Sea Scrolls, presented in 2003.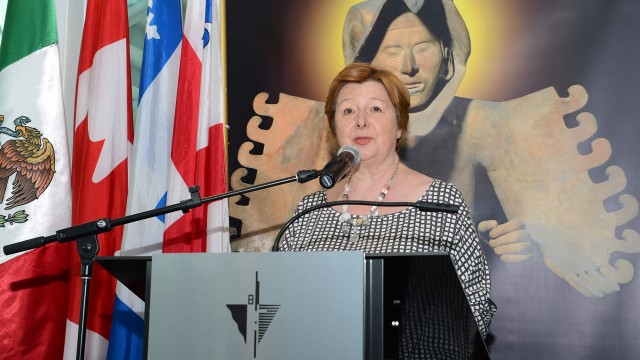 Inauguration of the exhibition The Aztecs, People of the Sun, presented in 2015.
A rich and diverse program of cultural activities
Francine Lelièvre launched popular historical cultural activities, including:
+ the celebrations to mark the 300th anniversary of the Great Peace of Montréal (1701–2001) and signing of a key peace treaty between New France and some 30 Indigenous nations. Over 2.5 million people took part in the festivities held throughout 2001. The events were featured in over 800 media reports;
+ 26 editions of Pointe-à-Callière's 18th-century public market events;
+ 24 editions of the Port Symphonies;
+ Dozens of editions of the Rendez-vous des cultures and Cultures gourmands;
+ 5 editions of the La Ronde de nuit.
An education program unique in Montréal
Francine Lelièvre initiated:
+ the development of an innovative school program on the history of Montréal led by expert guides;
+ the creation of an archaeological field school in partnership with Université de Montréal on the site on which Montréal was founded (2000–2013).
Local and international reach
Francine Lelièvre worked to communicate Pointe-à-Callière's knowledge and experience outside Montréal by:
+ releasing 70 Museum publications related to exhibitions, themes and research findings in French and English;
+ organizing six international conferences with ICOM CECA partners and the Entretiens Jacques Cartier;
+ pairing Pointe-à-Callière and the Musée archéologique de Saint-Romain-en-Gal (France);
+ making two presentations at the prestigious Louvre conferences and some 50 events in Canada and around the world (Austria, Italy, China, Kenya, France, Belgium, Finland, Spain, etc.);
+ enabling many exhibitions to travel abroad, including The St. Lawrence Iroquoians (Mexico and France), Queens of Egypt (Canada and US), France, New France (France) and From the Lands of Asia (US);
+ creating professional networks such as the Regroupement des musées d'histoire de Montréal;
+ contributing to boards of directors, including as chair of the board of the Société des directeurs des musées montréalais.
Responsible management
Under Francine Lelièvre's leadership, the Museum never encountered a deficit and always funded its operations with support from the city of Montréal, as well as with its own revenues and funding from the Pointe-à-Callière Foundation.
One of Canada's most acclaimed museums
Francine Lelièvre led the Museum to 94 national and international awards.
Recognition from society and her peers
Francine Lelièvre received over 20 personal honours:
+ Chevalier de l'Ordre National du Mérite de France
+ ICOM Canada International Achievement Award
+ Member of the Order of Canada
+ Lieutenant Governor's Award presented by the Heritage Canada Foundation
+ Award of Distinguished Service of the Canadian Museums Association
+ Award of Outstanding Achievement of the Canadian Museums Association
+ Officer of the Ordre national du Québec
+ Knight of the Ordre national du Québec
+ Honorary doctorate from Université du Québec à Montréal
+ Honorary doctorate from the Faculty of Arts and Sciences, Université de Montréal
+ Prix Carrière of the Société des musées québécois
+ Prix du Club des entrepreneurs 2017 of the Conseil du patronat du Québec
+ Cultural Management Award of the Carmelle and Rémi Marcoux Chair in Arts Management, HEC Montréal
+ Prix Femmes d'affaires du Québec of the Réseau des Femmes d'affaires du Québec
+ Women of Distinction Awards – Arts, Culture and Design of the Women's Y Foundation
+ Prix Grand Ulysse of Tourisme Montréal
+ Prix d'excellence en administration publique of the ADENAP
+ Prix du mérite en interpretation du patrimoine of the Association québécoise d'interprétation du patrimoine (AQIP)
+ Personnalité de la semaine in La Presse (1993 and 2012)
+ Médaille d'honneur of the Société historique de Montréal
+ Trophée d'excellence of Collège LaSalle
Pointe-à-Callière Foundation: financial support for the Museum's future
Francine Lelièvre founded the Pointe-à-Callière Foundation, a non-profit organization that supports the Museum's development. Under her leadership, the Foundation:
+ organized over 50 major fundraising activities, including the Major Donors Evenings and the Montréal Builders Club;
+ spearheaded a fundraising campaign that made it possible to create a $13M endowment fund;
+ financed the acquisition and rehabilitation of:
- D'Youville Pumping Station - Mariners' House - Former warehouse at 214 place D'Youville - Fort Ville-Marie and the Collector Sewer + supported the Museum when it sought to renew eight permanent exhibitions and four multimedia presentations;
+ contributed to the development of educational installations and programs;
+ offered financial support to mark the 13th anniversary of the Archaeological Field School in partnership with Université de Montréal;
+ implemented an archaeology and history bursary program in partnership with Pratt & Whitney;
+ developed the third phase of the Museum's expansion plan to preserve and showcase the remains of Marché Saint-Anne and the Parliament of United Canada (project currently underway).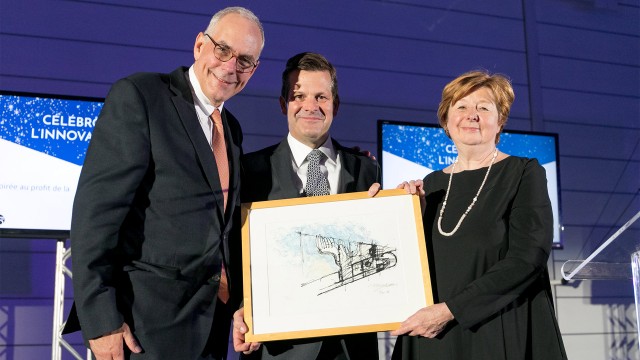 Major Donors Evening in 2017
Photo: Lino Cipresso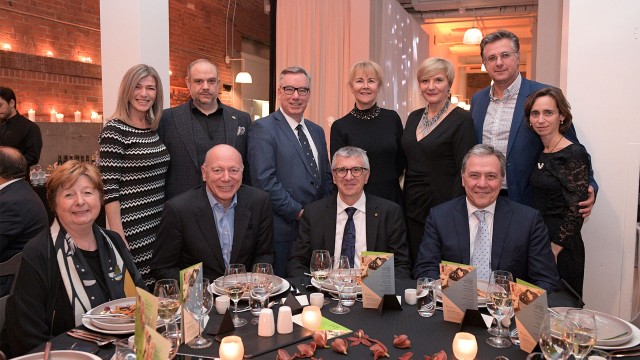 Arigato! 2019 Major Donors Evening
Photo: Lino Cipresso
A life dedicated to highlighting heritage