Tribute to Francine Lelièvre
December 15th, 2020
A life dedicated to highlighting heritage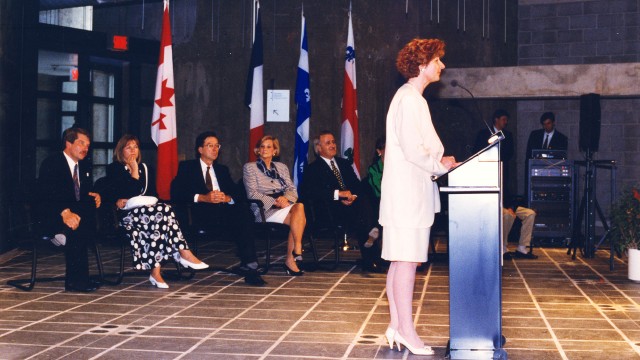 Francine Lelièvre has dedicated her life to preserving and highlighting heritage. She transformed Pointe-à-Callière, to which she now bids a fond farewell after 30 years, into a true gem as Montréal's largest history museum, Canada's only major archeological museum and a world-class institution. She discusses her journey and lets us in on some of the Museum's secrets.
Q. You began working on the Pointe-à-Callière project in 1989, when you conducted the feasibility study that would lead to the Museum's creation in 1992. On April 4th of that year, a small aircraft carrying six passengers crashed on Mont Saint-Joseph in Gaspésie. One person died, and you were among the five survivors. Where did you find the strength to take up the challenge to found and build Pointe-à-Callière following such a tragic event?
A. I had so many projects to deliver that year, so I didn't have time to feel sorry for myself. In the few months that the governments took to finally agree to the project, I had time to recover after the accident.
I was hospitalized for a long period. I had seven fractures and was immobilized, but I've always felt very fortunate to have survived. Life gave me a second chance, like extra time that makes every new day a gift. I had always lived life to the absolute fullest, and I remember thinking that I'd try to live a more balanced life once I recovered. But as soon as a I was better, I was back to my old self. I understood then that we remain ourselves despite life's events from which, of course, we grow. We always measure ourselves by the obstacles we face. I also learned that human relationships become essential in difficult situations. You don't question anything, you just lend a hand. After that, I think I became more inclined to take risks and follow my instincts.
We were all seriously injured, and our tiny group survived in the snowy forest for 24 hours as we waited for help to arrive because we were able to handle the accident like we'd manage a project. The report by Transport Canada investigators clearly stated that we had no chance of surviving: the crash site was unknown, the overcast skies made it impossible to launch a search, the weather was snowy and cold, there were wild animals and we had all sustained serious injuries. But we survived because everyone was so courageous and we made the right decisions. That's how I came to understand how enormously valuable project-based management could be.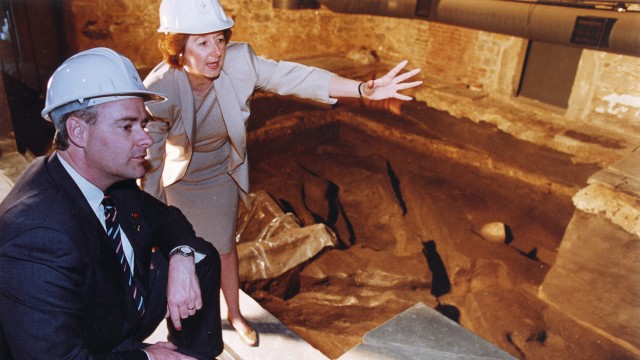 Q. Is Pointe-à-Callière still in line with the vision you had for the Museum when you built it?
A. The vision around which the Museum was built still stands today, although it has evolved. It was rooted in authenticity and the priority granted to historical and archaeological sites to showcase their remains. Any intervention affecting the remains had to be visible and reversible. We also had a vision to create a multidisciplinary museum that reflects society—an archaeology and history museum, of course, but also one that considers urban planning, sociology and anthropology.
Our architectural program required that we respect every period in Montréal's history. That meant any new building had to be of its own time. The Éperon, our main pavilion, truly reflects this. We chose to feature the people who dreamed and built Montréal in a contemporary showcase and through new technologies. Finally, we chose to present the history of Montréal through a human approach.
Q. What broad management principles influenced your leadership?
A. In my 13 years at Parks Canada, where I worked to develop historical sites and national parks, I was trained by engineers who specialized in project management—a method that was uncommon in the cultural sector. I also relied on management by objectives, and, still today, our management committee meets weekly to facilitate teamwork. Each person shares her or his point of view on the projects and developments in all the Museum's sectors. In addition, I look to participative management, which seeks a range of outlooks that help enrich the product and decisions.
Equity, creativity, rigour, commitment and product and service excellence are the values that guided my leadership. I also asserted my leadership in development by taking calculated risks, which, I believe, enabled the Museum to stand out through the high-quality accomplishments that stemmed from the efforts invested by all its teams.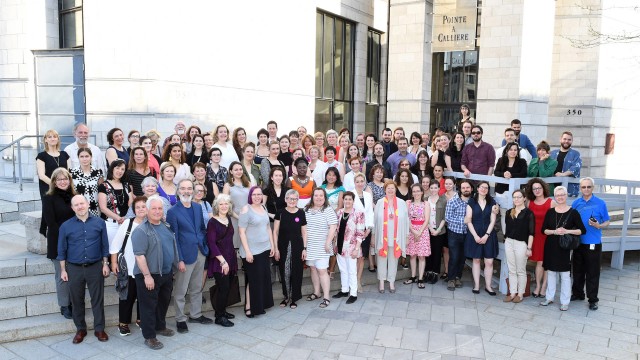 Current and past Pointe-à-Callière employees, summer 2017.
Photo: NH Photographes
Q. Which successes are you most proud of?
A. First and foremost, I must mention the birthplace of Montréal—the major historical find we made when we uncovered the remains of Fort Ville-Marie, the first French settlement of the women and men who founded the city. In 2017, we inaugurated a new pavilion to showcase the discovery made as part of the work carried out in partnership with Université de Montréal by the Pointe-à-Callière Archaeological Field School, which I helped create.
We also met the bold challenge to welcome 500 000 visitors, including some 100 000 young people, annually. I am very pleased to have made Pointe-à-Callière an intergenerational museum visited by 60% of Montrealers. In terms of our international exhibitions, it was truly rewarding to bring exceptional collections from our human heritage, like the Dead Sea Scrolls, as well as rare pieces from prehistoric Japan, the Etruscans and Egypt and spectacular compendiums from ancient Greece. Finally, judging from the awards and prizes it has received, the Museum has gained much recognition from its peers that has reflected on all its teams for the past 30 years.
Q. Why should Montrealers, the city of Montréal and the Museum's partners and donors continue to support Pointe-à-Callière?
A. Because Pointe-à-Callière is a museum with a purpose owing to the authenticity of the historical sites that it comprises. It's unlike any other museum; it embodies the essence of the city and is specific and distinctive. It houses all of Montréal's history in one place.
If Montrealers have developed a strong sense of belonging to the Museum, it's because this world-class institution contributes to their pride. Indeed, it's the only site that conveys their past to better understand the present. The Museum puts the city on the map and has real economic value.
To continue to grow, Pointe-à-Callière needs public and private support. The Museum receives funding from the city of Montréal but no public operating funds from Québec, unlike some 400 other museums across the province, and we must continue to support it. I know I certainly will.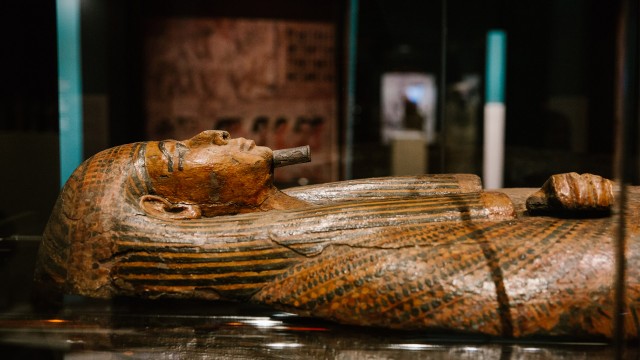 Queens of Egypt exhibition
Photo: Caroline Thibault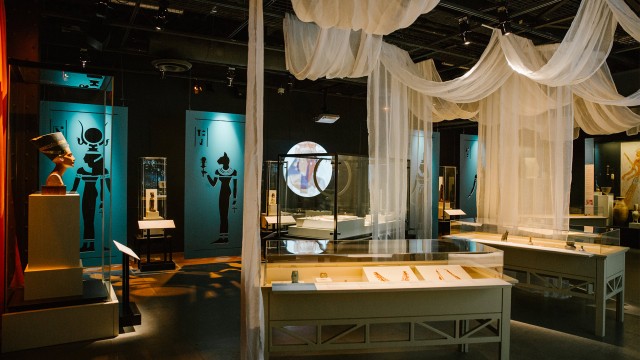 Queens of Egypt exhibition
Photo: Caroline Thibault
Tributes to Francine Lelièvre
Testimonies of respect and admiration
As your retirement approaches, now is the time to celebrate your extraordinary career, which has literally marked the history of Montréal. In 1992, the year of Montréal's 350th anniversary, you founded the museum at Pointe-à-Callière. Since then, the institution has become one of the city's quintessential destinations. From the young to the young at heart, countless children, families and visitors have discovered the history of Montréal and some of its best kept secrets thanks to your vision. And because your passion never waned, 25 years later, in 2017, you gave us the Archaeology and History Complex—an innovative link between a dozen heritage and historical sites. Your contribution to the history of Montréal and its dissemination is invaluable, and your career evokes admiration and respect. Your departure will certainly leave a great void, but I am convinced your love of Montréal will continue to be passed on from generation to generation. Enjoy your retirement, Madame Lelièvre!
Valérie Plante, Mayor of Montréal
---
As the chair of the board of directors of Pointe-à-Callière and on my own behalf, I would like to sincerely thank Francine Lelièvre for dedicating the past 28 years to the Museum's success. She is the heart and soul of Pointe-à-Callière. With her teams, Francine made the Museum one of which Montrealers can be proud. Thanks to her, the institution's future is bright. We will miss you, Francine. Happy retirement!
Daniel Desjardins, Ad. E., Bombardier Transport
Chair of the Board of Directors of Pointe-à-Callière since 2019