Pointe-à-Callière News
July 22nd, 2020
A new award of excellence for Pointe-à-Callière!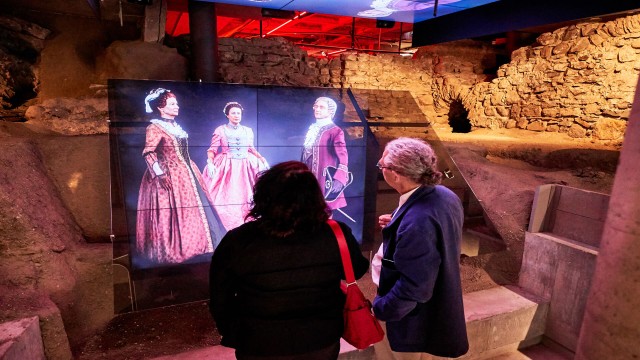 Photo: Romain Guilbault
The CMA's Awards of Outstanding Achievement recognize exceptional museum projects in a variety of different categories. This year, Pointe-à-Callière's virtual historical characters have won the 2020 Award of Outstanding Achievement in the New Media category.
This category recognizes innovation in accessibility, engagement, and participation by way of virtual publications, virtual exhibitions, online educational resources, social media initiatives, and other technologies.
The virtual historical characters have been presented at the Museum since April 2019, as part of the new exhibition Building Montréal, which showcases one of the city's highly symbolic sites: the first marketplace.
While in 1992, the Museum innovated by introducing its first virtual historical characters, in 2019, it incorporated the latest developments in voice recognition, artificial intelligence, and real-time 3D animation to deliver a completely new kind of experience. The three characters take visitors on a journey through time, back to the marketplace in 1749.
Visitors can listen to the characters speak or even talk to them about their reality and daily life at the time. What type of education did their children receive, what role did women play in the 18th century, and how did one get from Montréal to Québec City? These are among the questions that can be asked of Mrs. Élisabeth Bégon, her friend Mrs. Mater, and the Marquis de La Galissonnière, who can satisfy visitors' curiosity on a number of subjects.
"Over time and with new discoveries, we have continued to develop our knowledge of history, while our visitors' expectations have changed too. At Pointe-à-Callière, we are committed to constantly refreshing our offerings in order to provide Montrealers with new perspectives on their city's history, through an original museum experience that takes advantage of the latest in technology," explains Francine Lelièvre, the Museum's Executive Director.