Pointe-à-Callière's chief archaeologist is the winner of the 2019 Prix des Dix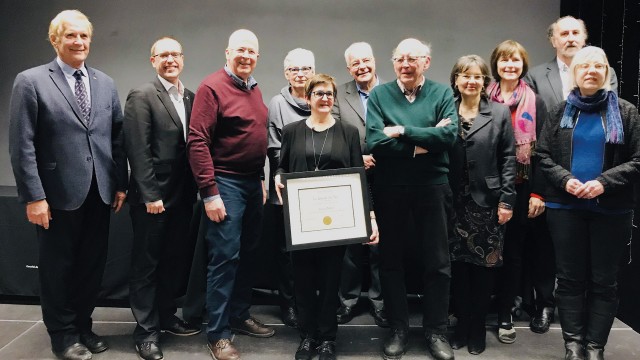 Photo: Claude-Sylvie Lemery
Louise Pothier, Chief Archaeologist at Pointe-à-Callière, was awarded the 2019 Prix des Dix on February 26. Presented each year, this award from the Société des Dix honours individuals for their extraordinary contribution in the field of Québec history or the history of French America.
According to Laurier Lacroix, 5th chair of the Société des Dix, "Louise Pothier has been part of a top-tier group that, over the past 25 years, has reconstituted—ecofact by ecofact, fragment by fragment, document by document—the rich past of Montréal."
The Société sought to recognize this high-calibre researcher and communicator for her exceptional work on several fronts and various historical periods, enriching not just the history of Montréal, but that of Québec as well.
Indeed, Louise Pothier has a very long track record with many accomplishments in the fields of Québec history and archaeology, principally in Montréal. Notably, at Pointe-à-Callière, she has been in charge of the conservation and development of the archaeological remains at Fort Ville-Marie building and of Canada's first collector sewer and led the archaeological research carried out on the site of Saint Anne's Market/Parliament of the United Province of Canada. Some of her other projects include the management of Archéolab.québec, whose goal is to create an online archaeological reference collection, and the Archéologie du Québec collection. She has also been a board member of the Association des archéologues du Québec and the Institut d'histoire de l'Amérique française, as well as a member of the Institut du patrimoine de Montréal's scientific committee.
The Pointe-à-Callière team would like to congratulate Louise on this distinction and underscore her undeniable contribution to the advancement of knowledge in the fields of archaeology and history.