Foundation Event
March 14th, 2019
The next generation of philanthropists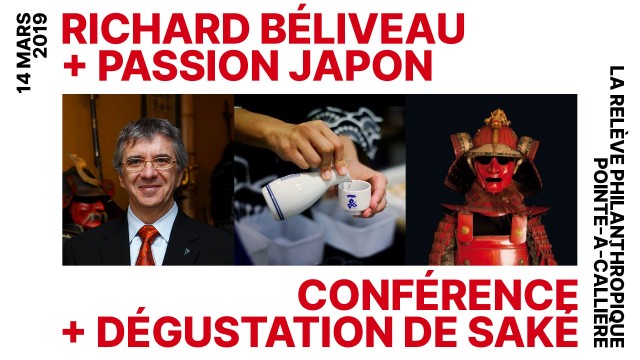 Pointe-à-Callière
In conjunction with the exhibition Into the Wonder Room, Pointe-à-Callière's Next Generation of Philanthropists invite you to a conversation with the great collector of Japanese art Richard Béliveau about his passion for collecting. Take this unique opportunity to learn the secrets of how this extraordinary collection of Japanese pieces was created. You will also discover a selection of privately imported sakes with Délane Ethier of L'eau et le riz! Kanpai !
A well-known and beloved Québec personality, Richard Béliveau has a Ph.D in biochemistry and directs UQAM's molecular medicine laboratory. A distinguished cancer researcher, he has published over 240 papers in medical journals around the world. Béliveau also has a great passion for Japanese civilization.
He owns one of the world's largest collections of samurai art, including complete sets of armor, masks, helmets, lances, sabres, and everyday items. His collection of authentic Japanese art and true masterpieces is so rich, spectacular, and varied that Pointe-à-Callière was able to design an exhibition presenting many aspects of these legendary warriors' lives.
Béliveau will discuss his passion with guests, who will also be able to visit the exhibition Into the Wonder Room, where certain objects from his collection are on display. A Japanese evening that will also feature a tasting of privately imported sakes. Arigato!
Doors open: 5:30 p.m.
Discussion begins: 6 p.m.
Activity restricted to Members of the Next Generation of Philanthropists. Not yet a Member? Join here and take advantage of our four exclusive activities for as little as $50/year if you are under 30 and for $100/year if you are between 31 and 45.
Information: 514-872-4643