Foundation Event
June 4th, 2018
Montréal Builders Club 2018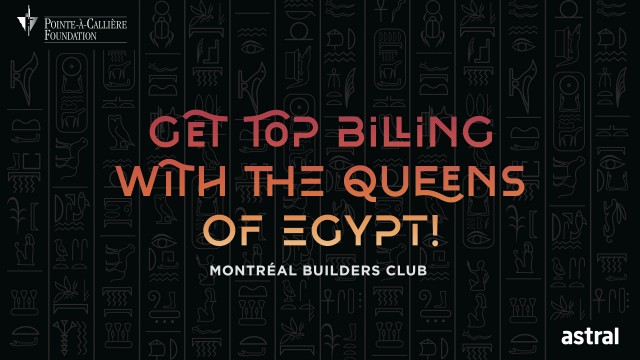 Pointe-à-Callière Foundation
Under the honorary presidency of Karine Moses, President Astral & Bell Media Sales Quebec, the Pointe-à-Callière Foundation invites you to take a multi-sensory journey of discovery to ancient Egypt.
Have you long dreamt of embarking on a voyage of discovery to Egypt, where you can explore various facets of this magni cent civilization? Well, here's your chance! Pointe-à-Callière, privileged host of a one-of-a-kind collection, proudly presents a Montréal cultural highlight: Queens of Egypt features 350 rare and precious objects showcasing the greatness of Egyptian civilization and bearing witness to the role of the powerful women of the Egyptian Empire.
The evening begins at 6 pm with a cocktail reception and a guided tour of the Queens of Egypt exhibition with its designers—including members of Ubisoft Montréal—, who have helped bring back to life the legendary sites of ancient Egypt. A gourmet meal will be served in the Museum's archaeological crypt around 7 pm. It's your turn to get top billing on this evening that promises to be truly memorable!