August 2022
A new season of journeys and discoveries at Pointe-à-Callière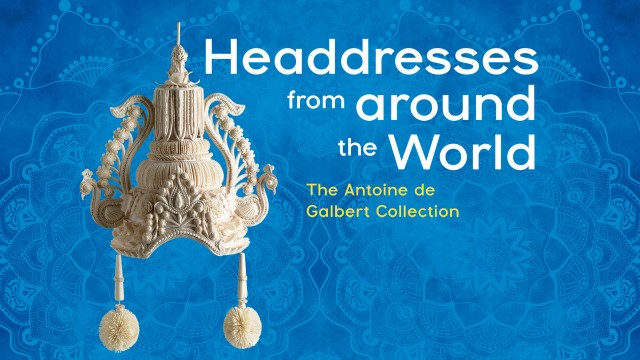 ---
Press release
A new season of journeys and discoveries at Pointe-à-Callière with the exhibition Headdresses from Around the World, the Antoine de Galbert Collection
Montréal, August 22, 2022 – Opening on November 17, 2022, the new exhibition at Pointe-à-Callière, Montréal's Archaeology and History Complex, will take the public on a journey around the world, showcasing headwear in all its forms... extravagant, colourful, and surprising! In doing so, Headdresses from Around the World, the Antoine de Galbert Collection will introduce visitors to a great diversity of peoples and cultures. It follows the successful VIKINGS – Dragons of the Northern Seas exhibition, which continues until October 10.
New Exhibition
HEADDRESSES FROM AROUND THE WORLD, THE ANTOINE DE GALBERT COLLECTION
NOVEMBER 17, 2022 TO MARCH 12, 2023
A journey around the world through over 300 headdresses from a prestigious collection
Headdresses from Around the World, the Antoine de Galbert Collection shines a spotlight on an object that has adorned human heads for thousands of years: the headdress. Originating in Africa, Asia, Oceania, and the Americas, some 300 remarkably beautiful and extraordinarily diverse headdresses and examples of finery for the head— kept, since 2017, at the Musée des Confluences in Lyon, France and collected with passion by French collector and philanthropist Antoine de Galbert over some thirty years of research—will be on display.
Hats, tiaras, bonnets, helmets, crowns, turbans… the history and culture of some 200 peoples are revealed through these accessories, both utilitarian and symbolic. Whether ancient or more recent, these headdresses—in an extraordinary variety of colours, shapes, and materials—provide a multitude of clues about the people who wore them. They bear witness to their status, their customs, and their beliefs, while also demonstrating the know-how and creativity of the artisans who made them.
At the crossroads of history, geography, and ethnology, the exhibition unfolds like a thematic journey punctuated with archival images and videos, projections, and interactive elements… all of it in an enchanting ambience that puts visitors in contact with peoples from every corner of the globe. A true voyage of discovery!
An exhibition produced by Pointe-à-Callière, based on an original concept by the Musée des Confluences in Lyon (France).
Three more exhibitions that are not to be missed this fall!
LAST DAYS TO SEE VIKINGS – DRAGONS OF THE NORTHERN SEAS
UNTIL OCTOBER 10, 2022
They sailed the seas, carried out devastating raids, and set out to conquer great cities… But what do we really know about the Vikings? Exclusively, and for the first time in Québec, the exhibition VIKINGS – Dragons of the Northern Seas features one of the finest Viking collections in the world! Jewelry and finery, everyday tools, and weapons… 650 authentic and highly diverse objects from the Age of the Vikings (8th-11th centuries CE) paint a most complete portrait of this legendary people. The exhibition traces their history through four major narratives: the tale of origins, the tale of life, the tale of travel, and the tale of end of days. Themes through which it addresses the lifestyle, values, and practices of ancient Scandinavian society, as well as navigation and war, mythology, and beliefs. The exhibition also presents recent findings from the L'Anse aux Meadows site in Newfoundland and looks at Nordic heritage in today's popular culture. All of it in an immersive exhibition environment, punctuated with images from the game @Assassin's Creed Valhalla by Ubisoft Montréal.
This exhibition is produced by Pointe-à-Callière, Montréal's Archaeology and History Complex, through a partnership with the National Museum of Denmark and MuseumsPartner in Austria.
More info | Press images | Download the press kit
A PARLIAMENT BENEATH YOUR FEET
UNTIL NOVEMBER 1st, 2022
Presented outdoors and free of charge on Place D'Youville, the exhibition A Parliament Beneath Your Feet reveals the secrets of a major archaeological and historical site in Old Montréal. Just a few steps from the Museum, between McGill and Saint-Pierre streets, there once stood one of the city's most majestic buildings, which, in turn, housed St. Anne's Market (1834 – 1844), Montréal's first covered market, and the Parliament of the Province of Canada (1844 – 1849). From 2010 to 2017, digs carried out by Pointe-à-Callière unearthed over 350,000 artefacts relating to this iconic building. At 7 stations located at key areas of the Market and Parliament site, with the Museum's mobile app in hand, visitors can stroll over the remains of this heritage jewel and explore a little-known chapter of history, from the time when Montréal was the capital of Canada! A crucial period during which key decisions were made for the advancement of democracy in Canada.
Until October, guides will be on-site to answer visitors' questions. The exhibition is also livened up with some fun and family-friendly challenges to help further your knowledge of this site of national significance!
**New **– Installed on Place D'Youville, two decked-out containers now complete the exhibition. Looking back at the major discoveries made by our archaeologists, the installation explains the importance of preserving this unique site, the last large-scale archaeological site in Old Montréal. Online, a captivating, 6-episode web series, Treasures beneath the city (2022), reveals the secrets of the site with Pointe-à-Callière archaeologists Hendrik Van Gijseghem and François Gignac.
This project was made possible through financial support from Tourisme Montréal's Fonds de maintien des actifs stratégiques, with the financial participation of the Government of Quebec.
More info | Press images | Download the app: App Store | Google Play
FAVOURITES! OUR COLLECTIONS ON DISPLAY
UNTIL JANUARY 8, 2023
The story of Montréal, told one object at a time… Key events, transportation, telecommunications, navigation, the economy, sports, and culture: through close to 400 pieces selected from among the thousands preserved at Pointe-à-Callière, the exhibition Favourites! Our Collections on Display paints a moving portrait of Montréal life. Furniture, clothing, jewelry, toys, tools, books, maps, posters, and iconography have literally been taken out of the storehouse to form a rich mosaic, set against a theatrical backdrop. Authentic witnesses to the city's history and that of its inhabitants, these objects reveal the distinctive character that makes Montréal such a unique city.
Pointe-à-Callière's ethnohistorical collection includes over 40,000 representative pieces of Montréal society, past and present. For the Museum's 30th anniversary—and for the very first time—a glimpse of the collection's great diversity is on display in this exhibition.
More info | Press images | Download the press kit
Pointe-à-Callière, 30 Years of History
In 2022, as Montréal blows out 380 birthday candles, Pointe-à-Callière is celebrating its 30th anniversary. For the occasion, individual memberships are available all year long for just $30!
Complete 30th anniversary programming
About Pointe-à-Callière, Montréal Archaeology and History Complex
Inaugurated in 1992 on the city's 350th anniversary, Pointe-à-Callière is today the largest archaeology museum in Canada and the busiest history museum in Montréal. Rising above a concentrated number of historic and archaeological sites of national significance—including the birthplace of Montréal—, the Museum has a mission to preserve its collections and to further knowledge, while showcasing and fostering an appreciation for Montréal's archaeological and historical heritage. This mission is carried out through various activities focused on conservation, research, presentation, education, and inclusion, along with community initiatives benefiting both Montrealers and visitors to the city.
Pointe-à-Callière is a proud partner of the City of Montréal.
Tickets and information: pacmusee.qc.ca
Source:
Nora Charifi
Communications Projects Manager, Pointe-à-Callière
Tel: 514 872-2687 / Cell: 514 829-0955
ncharifi@pacmusee.qc.ca