Exhibitions beyond the Museum
May 19th, 2023 — October 31st, 2023
A parliament under your feet
WELCOME TO AN ARCHEOLOGICAL SITE OF NATIONAL IMPORTANCE!
From May 19 to October 31, 2023
Free outdoor exhibition
Place D'Youville (near McGill Street)
Pointe-à-Callière's outdoor exhibition is on display on the portion of what is currently Place D'Youville West located between McGill and Saint-Pierre streets. Sitting right under your feet, the exhibition reveals a major archeological and historical site from Old Montreal: Saint Anne's Market and the Parliament of the Province of Canada.
In 2017, the Museum launched one of the largest archeological digs in the country and uncovered over 350,000 artifacts related to this iconic 19th-century building that first housed Montreal's first covered market (1832-1844) and then the Parliament of the United Province of Canada (1844-1849) before it was burned down during rioting.
Take a stroll over the remains of this neoclassical structure over 100 metres long that was once the most majestic building in the city! Through 7 stations, you will discover the important role this building played in Montreal and Canadian life at that time: from a place of commerce and civic gathering, to a platform of power where key decisions were made to advance the government's authority and develop democracy in Canada.
Along the way, you'll get to learn more about a few individuals who frequented the market or the parliament, including the owner of a bar, a little girl whose family lived in the building, and important political figures like Louis-Hippolyte La Fontaine and Robert Baldwin. A timeline takes visitors through various key milestones in this little-known chapter of history, with interactive games and extensive iconography bringing the site to life.
You can take a guided tour of the exhibition throughout the summer. Don't hesitate to ask our guide all of your questions about the site. The tour also includes family activities that will let you have fun while discovering this heritage jewel!
Travel back in time with our app
To find out more about this historic site, download the Pointe-à-Callière app from the App Store or Google Play. It will help you better understand how the stalls of Sainte Anne's market transformed in just a few years into the offices and legislative council room of the Parliament of the Province of Canada. Find a range of images from the period along with architectural plans and 3D reconstructions of the building. You will also find more details about the artifacts found during the archeological digs.
Download the Pointe-à-Callière app for a complete tour and exclusive content
Webseries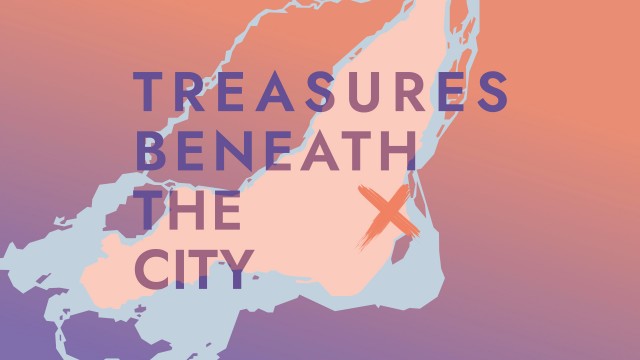 Treasures Beneath the City
Our archaeologists reveal the secrets that lie beneath Montréal streets