Pointe-à-Callière News
May 4th, 2023
Tiohtià:ke. An Indigenous History of Montréal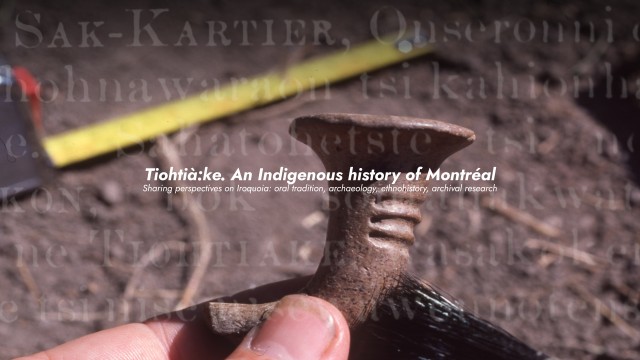 A series of captivating lectures to explore online
On February 16, 2023, Indigenous and non-native experts came together at Pointe-à-Callière, Montréal's Archaeology and History Complex, for a series of fascinating and important lectures on the Indigenous history of Montréal, or "Tiohtià:ke" in the Mohawk (Kanien'kéha) language.
Taking a scientific, collaborative, and inclusive approach, this unique event was organized by Pointe-à-Callière, through a partnership with the Mohawk Council of Kahnawà:ke and the Université de Montréal, through funding from the Social Sciences and Humanities Research Council (SSHRC).
Explore the lectures now, online, on the Museum's YouTube channel!
Studying the past to better understand the present
Located between the little river and the St. Lawrence, Callière Point was a strategic spot for hunter-gatherers some 4,500 years ago. This unique historic site, which the Museum now houses and opens to visitors, holds traces of the passages and meetings of several peoples, both native and from Europe, down through the centuries.
The history of the Indigenous presence over the last four thousand years—in the Montréal region, as well as the St. Lawrence River Valley and the southern Adirondacks—is increasingly the subject of in-depth study. Oral tradition, archaeology, ethnohistory, archival research—various fields of science are rallying to broaden our knowledge of Indigenous history, joining several communities seeking to rediscover their historic and ancestral heritage.
The day of lectures held at Pointe-à-Callière was an opportunity to exchange viewpoints and offer a glimpse of the most up-to-date knowledge on the Iroquoians.
The research continues, allowing citizens, both Indigenous and non-native, to reconnect with this rich cultural heritage.
As a site for the research and presentation of Montréal archaeology and history, the Museum will continue to play an active role in scientific research that will contribute to contemporary views on our shared history.
Thank you to our lecturers
Gerald Taiaiake Alfred (Mohawk Council of Kahnawà:ke), Fannie Dionne (historian, Jesuits of Canada), Roland Viau (anthropologist-historian), Jean-François Palomino (map librarian, BAnQ), Katsi'tsahén:te Cross-Delisle (researcher, Mohawk Council of Kahnawà:ke), Jonathan Lainey (Curator, Indigenous Cultures, McCord-Stewart Museum), John P. Hart (archaeologist, New York State Museum), Roland Tremblay (archaeologist), and Christian Gates St-Pierre (professor and researcher, Université de Montréal).