Pointe-à-Callière News
October 3rd, 2019
Pointe-à-Callière's Queens of Egypt exhibition receives an Award of Excellence from the Société des Musées du Québec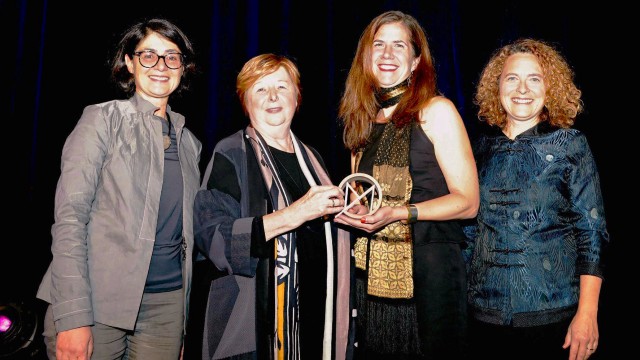 Société des Musées du Québec (SMQ)
On October 2, 2019, Pointe-à-Callière received an award from the Société des Musées du Québec (SMQ) for its Queens of Egypt exhibition as part of the 2019 Prix SMQ, which aim to recognize, stimulate, and reward excellence in museum practices in Québec.
The SMQ's jury members highlighted "the ambitious museum offering, which irrefutably left an impression on Montréal's cultural landscape in 2018." The Award of Excellence was given to Pointe-à-Callière "for having cleverly combined content and design as part of a successful multi-sensory experience, for its high production quality, and for its important contribution to research and the international reach of Québec museology".
In the jury's view, "exhibiting exceptional pieces of mankind's heritage from prestigious museums around the world remains, in itself, worthy of mention. Doing so from the angle of femininity in an ancient society known more for the splendours and grandeurs of its pharaohs requires both daring and skill."
The jury also recognized the remarkable educational program that was offered to many school groups over the course of the exhibition, the publication of a book that was distributed worldwide, and the quality and number of partnerships established as part of this exhibition.
The temporary exhibition Queens of Egypt, presented in Montréal in the summer of 2018, was the most highly attended exhibition in the history of Pointe-à-Callière. The exhibition is currently on a North American tour, which, after a stop at the National Geographic Museum in Washington, will take it to the Nelson-Atkins Museum of Art in Kansas City and to the Canadian Museum of History in Gatineau in 2020.
Pointe-à-Callière's Queens of Egypt exhibition also received the Prix Distinction from Tourisme Montréal in 2019, for museums with 50,000 or more visitors.