Pointe-à-Callière recognized with an Opération patrimoine Montréal Grand Prix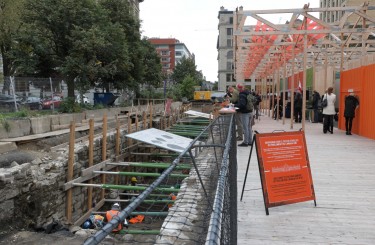 Photo: Alain Vandal
In December 2018, Opération patrimoine Montréal awarded its ninth annual Grands prix, which celebrate the city's physical and intangible heritage. Montrealers were asked to submit nominations in five heritage-related categories – care, renewal, knowhow, promotion, and joint action.
In the promotion (Faire connaître) category, the grand prize winner was Pointe-à-Callière's St. Ann's Market–Parliament of United Canada archaeological site. The Opération patrimoine Montréal jury noted that it was "impressed by how the summer exhibition grabbed the public's attention. The simple, unpretentious installations gave people a chance to view the archaeological ruins unearthed at the site, understand the historical context of their origins, and speak with archaeologists and other specialists at this important dig site."
Recall that in 2017, Pointe-à-Callière exhibited these large-scale archeological remains to the public. From the dig site at Place D'Youville Ouest, a team of archaeologists worked to extract artifacts from the St. Ann's Market, built in 1832, converted into the Parliament of United Canada in 1844, and destroyed by fire in 1849. In addition to providing unprecedented access to the archaeological digs, the project gave visitors a chance to learn about a little-known heritage site and historical event. Throughout the project, citizens and visitors could witness daily archaeological discoveries and watch artifacts being removed from the ground.
The entire Pointe-à-Callière team wishes to thank Opération patrimoine Montréal and the city for this award.