Pointe-à-Callière News
May 24th, 2019
New Book and Awards Ceremony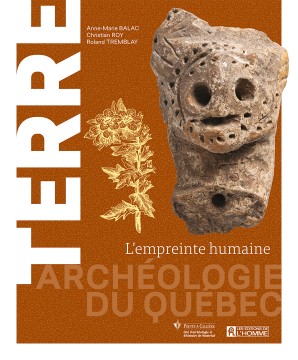 Terre – L'empreinte humaine
The new book Terre – L'empreinte humaine was officially released in Québec City on May 16, 2019 during the conjoint annual meetings of the Canadian Archaeological Association and the Association des archéologues du Québec.
More than earth—or the land itself—what other element can better reveal the rich history of the humans who have trod the territory of Québec over the millennia? The authors of this book, Anne-Marie Balac, Christian Roy, and Roland Tremblay—all passionate archaeologists—, invite us to explore the many faces of this material memory. A land of origins, lending its support and protection from the first breath onwards. A land of identity, telling a story. A land abounding in materials with which to shelter oneself, to clothe oneself, to manufacture, to build. A fertile land, on which to cultivate corn, wheat, and medicinal plants—and where forests grow, offering their wood and bark. A land covering traces of our predecessors, to be deciphered beyond the movements that have shifted its layers. A land that is a final resting place, where everything comes to an end, where everything begins again. A land that must be watched over, now more than ever… as it's the only one we have.
A different way to explore Québec… that is, in light of what archaeologists have been digging up for decades across its vast territory! This is the exceptional adventure that awaits you in the "Archéologie du Québec" collection, stemming from a desire—on the part of the Ministère de la Culture et des Communications and Pointe-à-Callière, the Montréal Archaeology and History Complex—to give the public greater access to the results of some 50 years of archaeological research, in a broad, illustrated, and disciplined manner. And, in so doing, reveal the richness of Québec's irreplaceable heritage, which must be better understood and preserved. An ambitious series of books focused on the elements—air, water, earth, and fire, as well as on material culture (Fragments d'humanité)—was therefore created. Terre is the 4th of 5 books in the collection.
Launch and Awards Ceremony in Montréal
The new book was also launched in Montréal on May 19 during the Société historique de Montréal's annual banquet, which paid tribute to Montréal's founders. At the event, Louise Pothier, the Museum's Chief Archaeologist, along with Pointe-à-Callière's archaeology team, including Hendrik Van Gijseghem, François Gignac and Alain Vandal, received the Société historique de Montréal's medal. Since 1922, this medal has been awarded to an individual who, throughout his or her career, has made an exceptional contribution to Montréal's history, its heritage, or the Société itself. The Société wished to highlight the support and highly relevant role of Pointe-à-Callière, which, through its archaeological digs, publications, and exhibitions, helps raise awareness of Montréal's history in a most extraordinary way.
Terre – L'empreinte humaine can be purchased from the online Museum Shop.
Terre – L'empreinte humaine, Anne-Marie Balac, Christian Roy, and Roland Tremblay, Pointe-à-Callière and Les Éditions de l'Homme, May 2019, 200 p.