Pointe-à-Callière at home
May 25th, 2020
Let's hear from you! Group Historical Collage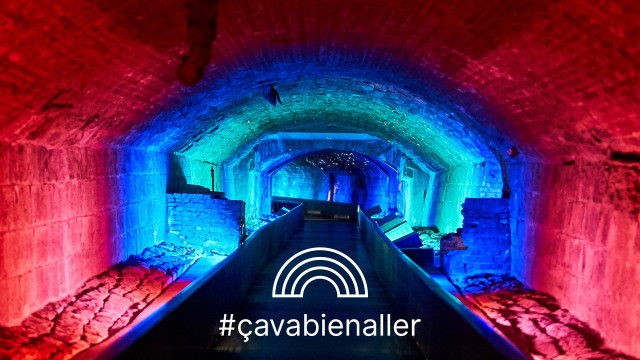 Have you asked yourself how your neighbours are coping with confinement?
On March 13, our lives and daily routines underwent a radical change. While each of us is sheltering in place at home, we are all at the heart of this historic event that is unfolding before our eyes. Some people have taken the opportunity to learn to play an instrument, while others are finally trying out that special recipe they found online… Whether out of need or boredom, we are reinventing our daily lives and contributing—perhaps inadvertently—to the writing of a shared history that must not be forgotten. This means that your accounts, your observations, and your view of these events are both valuable and unique.
As Montréal's history museum, Pointe-à-Callière is a repository of the memory of Montrealers and the communities that make up our city. This is why we want to take a look at the impact that COVID-19 is having on Montréal society through your accounts.
In words, through photos, or by means of any other data in digital form, we want to hear your personal experiences and gather your accounts and thoughts on the recent events. Contribute to history in your very own way!
If you don't know where to start, here are a few ideas to help guide you…
+ How are you dealing with this crisis on a daily basis? How are you spending your days? What real changes have there been in your lifestyle and how have they affected you? Have you rearranged your living space? What is your relationship to the space in which you live?
+ When you walk around your neighbourhood, what do you observe? Do you have any anecdotes, or have you spontaneously taken any photos you want to share with us? What is it about them that makes an impression on you?
+ Do you know anyone who is currently working as part of an essential service? How are they handling it during the crisis?
+ What do you think of the recent start of deconfinement… or how are you taking part in it? How do you envision a return to "normal"? Children's return to school? What do you imagine the summer of 2020 will be like… or the rest of the year? Have you cancelled or postponed any projects?
This is by no means an exhaustive list! Please contribute by sending your written accounts and/or photographs to the following address: temoignages_covid@pacmusee.qc.ca
Please note that your participation in this group historical collage is voluntary and may remain anonymous. If you agree to share your account, please make sure to let us know… you may be featured on the Museum's website!
We all need to feel connected during these trying times… remember, it's going to be okay!