Pointe-à-Callière News
November 29th, 2021
Montréal. Capital City is now available in English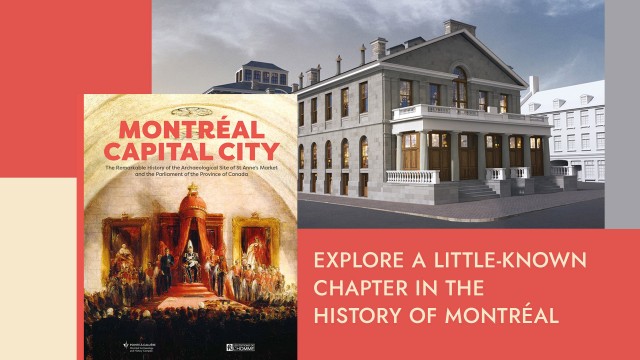 Montréal. Capital City [Montréal, capitale]. Explore a little-known chapter of Montréal history, when the city was the capital of Canada! Released in French on December 1st, the English version is now available!
Pointe-à-Callière, Montréal's Archaeology and History Complex, releases the English version of its last book "Montréal, capitale" on February 16th published by Éditions de l'Homme, which tells the incredible story of an archaeological site of national importance: that of St. Anne's Market and the Parliament of the Province of Canada.
Just a few steps from the Museum, in the heart of Old Montréal, on Place D'Youville West, there once stood an iconic 19th century building that in turn housed St. Anne's Market—Montréal's first covered market (1832-1843)—and the Parliament of the Province of Canada (1844-1849), before it was burned down in the wake of rioting.
Carrying out archaeological digs at the site between 2010 and 2017, Pointe-à-Callière was able to unearth over 350,000 artifacts that survived the flames. The book presents some one hundred of the most significant of these objects, shedding new light on daily life in the parliament and on 19th-century Montréal, the capital of Canada at the time. A defining period for the development of democracy in our country!
Edited by Louise Pothier, Chief Archaeologist at Pointe-à-Callière, "Montréal, capitale" [Montréal. Capital City] gathers surprising and previously unpublished accounts, written by dedicated historians and archaeologists, about this little-known chapter in the history of Montréal, Québec, and Canada.
Filled with anecdotes and historical facts that continue to resonate in society today, the book brings this major site to life with detailed 3D reconstructions of the market and the parliament, as well as maps and old illustrations, many of which are being published for the very first time.
English version available at the Museum's ticket counter, and online on February 16th, 2022.