Practical information
June 1st, 2020
Guidelines for visitors
Pamela Lajeunesse
IMPORTANT NOTICE
Dear history and archaeology fans,
Please note that Pointe-à-Callière is temporarily closing its doors to comply with health and safety measures ordered by the Government of Québec. Get more information on this temporary closure and find out how you can support your Museum over this period.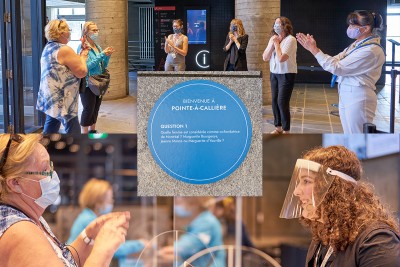 Romain Guilbault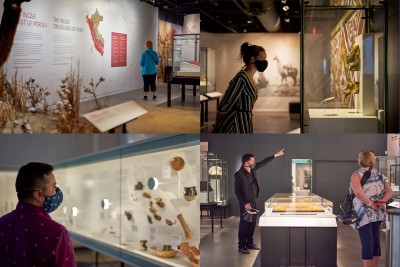 Romain Guilbault
What must I do before visiting the Museum?
• If you have any COVID-19 related symptoms (fever, dry cough, fatigue, difficulty breathing, headache, etc.), we ask that you do not visit the Museum. We will be delighted to welcome you… at least 14 days after you no longer have any symptoms!
• We encourage you to purchase tickets online once you are positive with your visit to the Museum, in order to avoid any exchanges of cash, or to pay using a contactless method. Please note that your tickets are not reserved for a specific time slot or date - NO RESERVATION. Pointe-à-Callière has taken this approach in order to provide access to the Museum as a whole and to avoid imposing a time limit on visits. We have made every effort to reduce wait times as much as possible.
• Plan on a little more time than usual for your Museum visit. You may have to wait outside, so make sure you have what you need.
• As wearing a mask is mandatory for 12 years old and over, please make sure to bring one with you.
When you arrive at the Museum...
• Whether or not you have tickets, go to 350 Place Royale, the Museum's main building and the only possible entrance.
• Are you a Member of the Museum? Use the priority queue for Members to the right of the main entrance.
• Wait for the security guard to indicate you can come in. Please follow physical distancing rules while waiting to validate or purchase your ticket. You may be asked to line up outside.
During your visit…
• Wash your hands upon your arrival at the Museum and before leaving.
• If you need to, please cough into your elbow.
• Keep to the defined pathways indicated on the floor, maintain your physical distance from other visitors, and follow our staff's instructions.
What health measures have been put in place?
• A limited number of visitors will be allowed in the Museum—as well as in the exhibition rooms—at the same time, in order to respect physical distancing.
• Our personnel will carry out frequent cleaning of all surfaces.
• Hand-washing stations will be available at several locations inside the Museum. Use them!
• Two pathways will be available for visitors in order to maintain physical distancing; you may choose to skip certain exhibitions or to take more time to view others.
• Personnel in contact with visitors will be wearing masks.
Will any services be unavailable?
• There is no info sessions or guided tours available when the Museum reopens. However, our guides are on site in the Museum to answer your questions, while maintaining a physical distance.
• The self-serve cloakroom will remain available.
• The Museum Shop will be open from noon to 5 pm on days when the Museum is open.
• Please note that no educational services will be available (guided group tours, day camps, or childcare services) and children's parties are not permitted.
Will certain exhibitions or areas be off-limits?
• The Belvedere, with its view of Old Montréal, will be closed, given its confined space.
• All of our exhibitions are open, including The Incas, Treasures of Peru, which runs until October 4. Please make sure to check our programming.
Are you physically unable to come to the Museum?
• Our virtual guided tours remain available on our Facebook page and our website. You can also browse our many Pointe-à-Callière at Home initiatives. If you would like to support the Museum, you can make a donation to the Pointe-à-Callière Foundation.