Practical information
February 3rd, 2021
Guidelines for visitors
Photo: Myriam Ménard
IMPORTANT NOTICE
Book your Museum visit: when purchasing your tickets, select your preferred date and time, and you're all set!
Please buy your tickets online to reduce contacts.
It's not possible to bring your lunch or eat inside the Museum.
It is impossible for us to tell you the waiting time in real-time for an exhibition.
What must I do before visiting the Museum?
• If you have any COVID-19 related symptoms (fever, dry cough, fatigue, difficulty breathing, headache, etc.), we ask that you do not visit the Museum. We will be delighted to welcome you… at least 14 days after you no longer have any symptoms!
• We encourage you to purchase tickets online once you are positive with your visit to the Museum, in order to avoid any exchanges of cash. Note that tickets are now time-stamped and valid only for the timeslot you have selected for your visit. • Note that tickets can still be purchased directly from the ticket counter. However, we cannot guarantee spots will be available at your desired time slot. • Tickets purchased before June 7 are still valid. Come to the ticket counter at any time.
• As wearing a mask is mandatory for everyone aged 6 and up, please make sure to bring one with you.
When you arrive at the Museum...
• Whether or not you have tickets, go to 350 Place Royale, the Museum's main building and the only possible entrance.
• Are you a Member of the Museum? Use the priority queue for Members to the right of the main entrance.
• Wait for the security guard to indicate you can come in. Please follow physical distancing rules while waiting to validate or purchase your ticket.
• You must visit the Museum with your family bubble. If you are visiting the Museum at the same time of a person outside your family bubble, you must keep a 2 meters distance at all times.
During your visit…
• Wash your hands upon your arrival at the Museum and before leaving.
• If you need to, please cough into your elbow.
• Keep to the defined pathway indicated on the floor, maintain your physical distance from other visitors, and follow our staff's instructions.
• You will be given a little stylus when you arrive at the Museum, please make sure to use it when you need to use interactive touch screens.
• For sanitary reasons, it's strictly forbidden to bring your lunch and eat it inside the Museum. You must keep your mask on at all times.
What health measures have been put in place?
• A limited number of visitors will be allowed in the Museum—as well as in the exhibition rooms—at the same time in order to respect physical distancing.
• Our personnel will carry out frequent cleaning of all surfaces.
• Hand-washing stations will be available at several locations inside the Museum. Use them!
• One unique pathway will be available for visitors in order to maintain physical distancing; you may choose to skip certain exhibitions or to take more time to view others.
• Personnel in contact with visitors will be wearing masks and safety glasses.
Will any services be unavailable?
• There is no info sessions or guided tours available when the Museum reopens. However, our guides are on site in the Museum to answer your questions while maintaining a physical distance.
• The cloakroom and water fountains will NOT BE available. Toilets remain accessible.
• The Museum Shop remain close until further notice.
• The Lunch Room is not available and you cannot eat inside the Museum.
• Please note that no educational services will be available on-site (guided group tours, day camps, or childcare services) and children's parties are not permitted. Take a look at our virtual guided tours for school groups.
• The Archeo-Adventure workshop will not be available either.
Are you physically unable to come to the Museum?
• Don't miss our virtual guided tours of our exhibition A Railroad to Dreams and other virtual activities available on our Facebook page and our website. You can also browse our many Pointe-à-Callière at Home initiatives. If you would like to support the Museum, you can make a donation to the Pointe-à-Callière Foundation.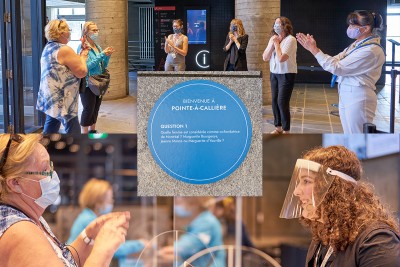 Photo: Romain Guilbault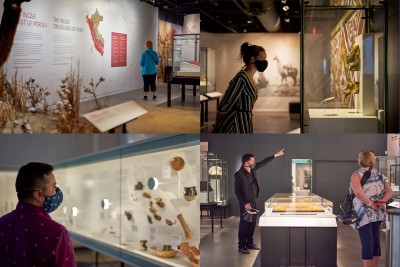 Photo: Romain Guilbault