Citizen Action
February 25th, 2019
A collective narrative on the history of Montréal, created by young people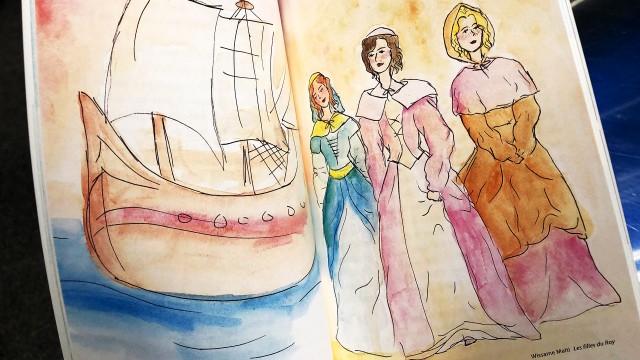 Photo: Pointe-à-Callière
In an effort to anchor its citizen action in both the advancement of the history of all Montrealers and the development of French language skills, Pointe-à-Callière launched a new educational and cultural project in 2018: Nous sommes Montréal. As part of this initiative, poet and author Karim Akouche acted as a volunteer guide for students at Marguerite-De Lajemmerais School as they created three collective fictional narratives on the history of Montréal. The starting point for the story: a visit to Pointe-à-Callière, the birthplace of Montréal, which gave three classes of 15-year-olds and their teachers—Marie-Mylène Allard and Philippe Couture—the opportunity to travel through time.
The project has several objectives:
• Linguistic
First and foremost, the idea was to share a passion for the French language and motivate the students—from a girls' school in which the students' mother tongue is not always French—to write and master the language.
• Literary
Through workshops led by Karim Akouche, the young girls got an overview of various types of narratives, finally settling on a tale. This would prove to be the best option for telling the story of Montréal, as well as their own.
• Historical
The workshops were not strictly focused on writing; they also served as a way to explore and learn the history of Montréal in order to fully grasp it. The students learned about four of the city's founders and the brokers of the Great Peace.
• Human
By mastering language, writing, and history, the story fell into place and became a vehicle for conveying universal messages. Each of the characters takes us on a journey through time, while emphasizing a specific aspect. The first story deals with the question of origins and an openness to the Other, the second addresses love and reconciliation, and the last is focused on the theme of forgiveness.
Nous sommes Montréal is a collective project that links the past with the present, the founding of Montréal with the arrival of immigrants, and a journey to the unknown with adapting to a new life. Taking inspiration from the story of Montréal, the student writers tell us their own story, that of 21st century Montreal teens. From their neighbourhoods in Hochelaga-Maisonneuve or the Plateau, they share their point of view, both on the past and the present of their city. They become witnesses who, through this magnificent project, each become a part of History. Other young students were also inspired to create touching drawings based on the stories.
Read the story Nous sommes Montréal, available online, which will immerse you in the history of Montréal as seen through the eyes of these young students.