Urban Space
May 25th, 2018 — September 4th, 2018
Urban Space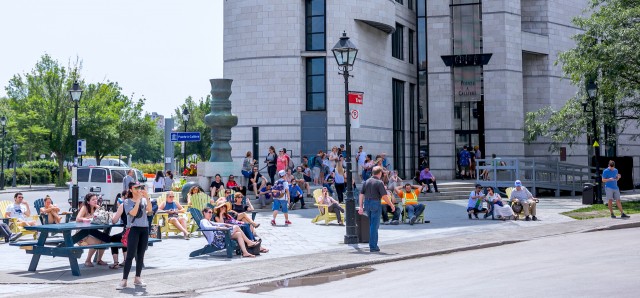 Photo: NH Photographes
From May 25 to September 4, 2018
Place Royaye and Place D'Youville
The Museum's gift to Montrealers, all summer long! Enjoy a rich, varied, and completely free program of events. Passersby, tourists, families, and those working in Old Montréal can experience activities related to the cultural wonders of Ancient Egypt, as well as events showcasing Montréal culture and history.
Take a break and enjoy the sunshine on picnic tables and Adirondack chairs all summer on the Pointe à Callière! As of May 25, allow yourself to be tempted to stretch your musical muscles on a public piano between 10 am and 6 pm.
This year, our festive summer space will be further enhanced by a croque-livres. Come by and take a book, or leave a book! More details here.
Join us on Thursdays for Musical Middays and on Sundays for Family Sundays.
Program