30th anniversary
May 17th, 2022
MAY 17 – THE MUSEUM'S BIRTHDAY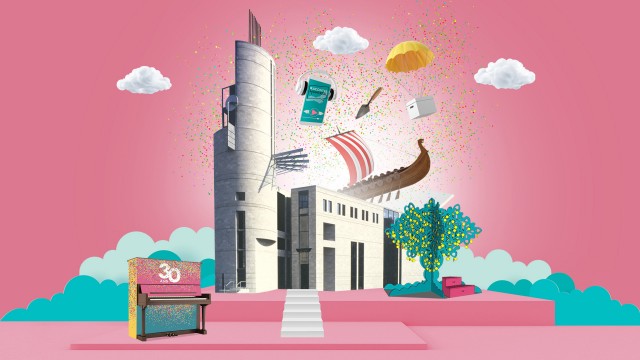 Illustration : Dominique Boudrias / Pointe-à-Callière
May 17, 2022 marks the 30th anniversary of Pointe-à-Callière… and Montréal's 380th! To celebrate this double birthday, the Museum will welcome you free of charge all day long… and has a few surprises in store. Don't miss out on this special occasion! We'll be waiting for you!
MUSEUM ADMISSION: PAY AS YOU LIKE!
On Tuesday, May 17, come to the Museum free of charge and make a donation to fully enjoy the experience!
At your discretion, contribute any amount to visit the Montréal archaeology and history complex. All donations will go to the Pointe-à-Callière Foundation to help support the Museum's mission and projects.
Go to the ticket counter to take advantage of this free admission offer. No online reservations.
Free entrance applies on all permanent and temporary exhibitions.
MUSICAL PERFORMANCES BY MYSTERY GUESTS... EXPECT SOME SURPRISES!
Tuesday, May 17
From noon to 1 pm
On Place Royale, outside the Museum
In case of rain, the performance will take place in the main building at 350 Place Royale. Space is limited.
See special musical performances by two mystery guests—free of charge! Performing on the public piano, these prominent Montréal artists will get you to sing and dance to music you are sure to recognize...
A unique opportunity to see or discover these internationally renowned artists.
It's anybody's guess… Who do you think you'll have a chance to see in performance at the Museum on May 17?
WISH TREE
While visiting, make sure you also stop by our wish tree! This nearly 8-foot-tall participatory art installation has been put up to let you share your wishes, dreams and ideas for the future of Montréal.
What do you wish for your City in the days to come?
WIN A PRIZE WORTH OVER $600
Starting May 17, take part in our "Happy Birthday Montréal!" quiz on the past 30 years of Montréal history, as the city celebrates its 380th anniversary!
You could win a grand prize including a 1-night stay for 2 at the hotel of your choice between Hôtel Bonaparte, EPIK Hotel Montreal or UVille Montreal Hotel, 1 gourmet meal for 2 at Bonaparte restaurant, 2 passes for Saute-Moutons (a 60-minute expedition on the Lachine Rapids), 2 single annual memberships to Pointe-à-Callière, 1 VIKINGS – Dragons of the Northern Seas book, and a $50 gift certificate redeemable at the Museum Shop.
The grand prize draw will be held on Sunday, May 22 at 5 pm.
Good luck!
AN EXCITING PROGRAM OF ACTIVITIES PUNCTUATES THE MUSEUM'S 30th ANNIVERSARY THROUGHOUT 2022… EXPLORE IT ALL!