Pointe-à-Callière at home
March 30th, 2020
The #IncaPeru exhibition differently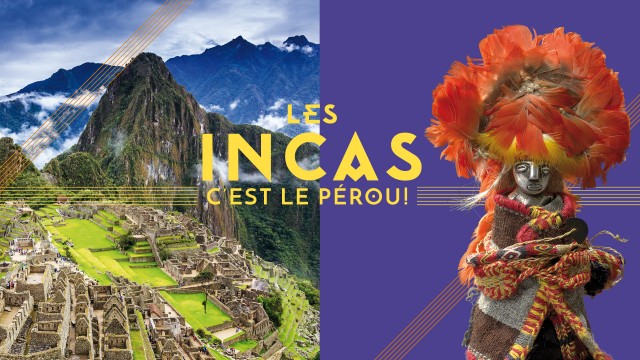 Since you're unable to come see the exhibition The Incas, Treasures of Peru in person, we're inviting you to explore certain aspects of Incan and Peruvian pre-Columbian cultures on video and through photos!
To start off, take a quick tour that gives you a glimpse of the various exhibition rooms!
#IncasPeru video
Watch our #IncasPeru videos, featuring our two experts: Samuel Moreau, Exhibitions Project Manager, and Hendrik Van Gijseghem, History and Archaeology Projects Manager, at Pointe-à-Callière.
An object, a story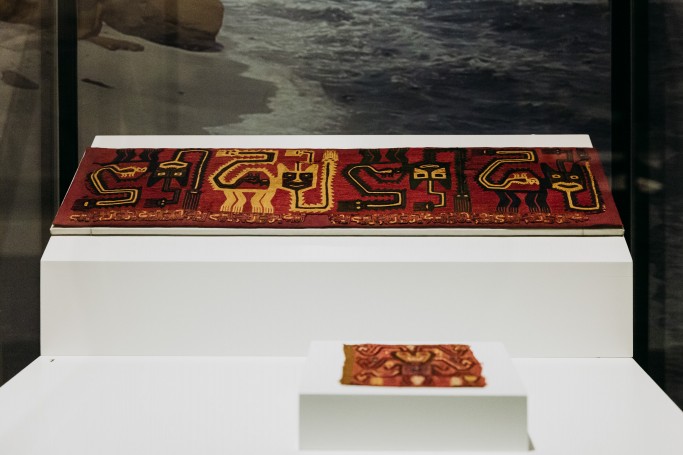 PARACAS
Mantle edging decorated with felines, an important theme in Andean history. The figure is reproduced with inverted colours. This dualism is central to Andean cosmology, in which everything exists solely as a complement to something else, equivalent but distinct.
Paracas-Nazca transition (200 BCE – 100 CE)
Camelid wool, cotton
20 x 71 cm
Royal Museums of Art and History, Brussels Photo: Caroline Thibault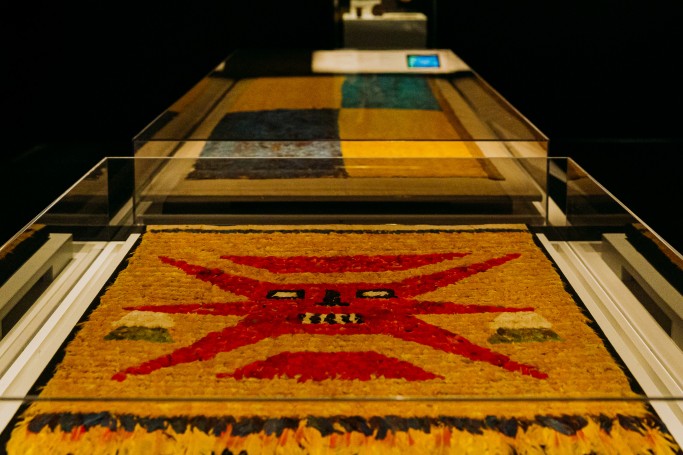 NAZCA
Front of a feathered tunicdepicting a face with six rays. The pink marks on yellow flight feathers are the result of tapirage, a colour alteration technique produced by controlling birds' diet or by applying substances directly to their skin.
(100–600)
Feathers and cotton
102 x 80 cm
Private collection Photo: Caroline Thibault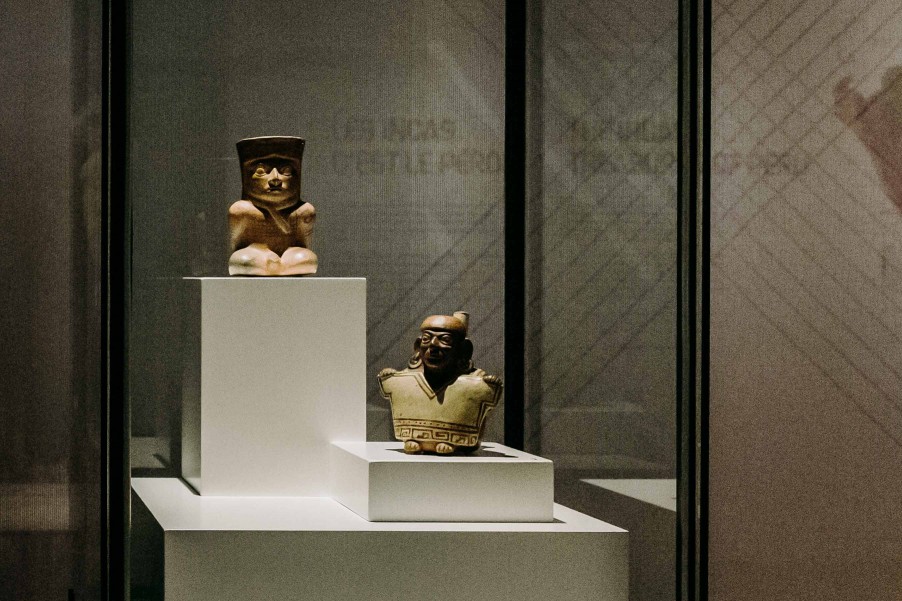 MOCHE
Vessel depicting an unclad prisoner. The lack of clothing indicates a subdued prisoner.
(100–600)
Terracotta
20.3 cm
Royal Museums of Art and History, Brussels Photo: Caroline Thibault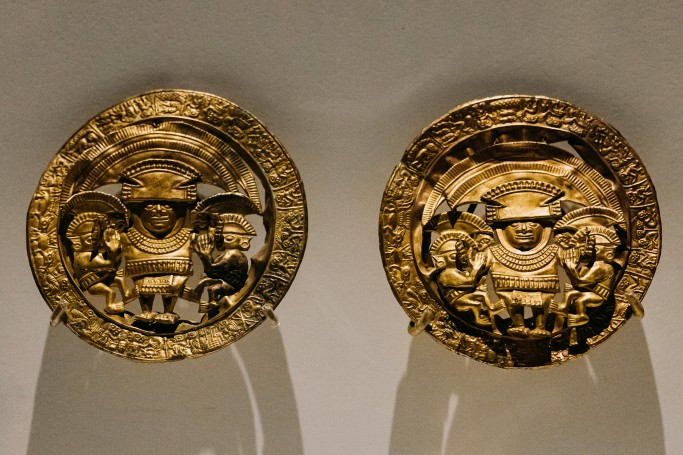 CHIMÚ
Ear ornaments. The Chimú were remarkable metalworkers. Their ornaments, such as this one, were worn by the nobility. Peru, northern coast (1100–1470)
Hammered and repoussé gold
8.6 cm
P. & D. Janssen-Arts Collection, Heritage Agency of the Flemish Community and the MAS, Antwerp Photo: Caroline Thibault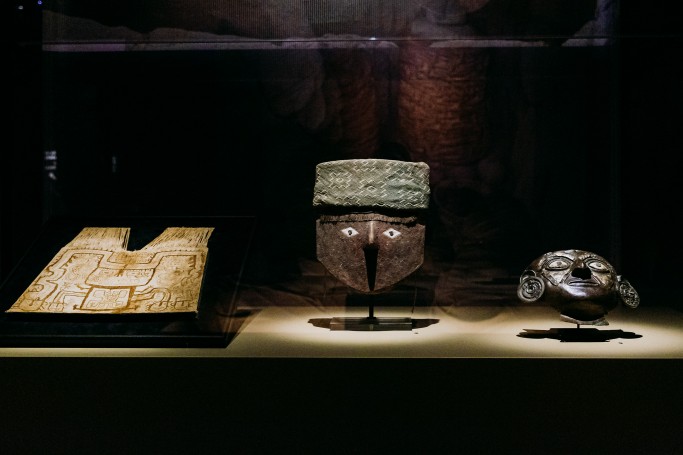 CHANCAY
False funerary head. The head and face were important in funerary rites. The deceased must be able to communicate, especially through speech, in the afterlife with their descendants on earth.
(1100–1450)
Wood and fabric
30 x 25 cm
Coenen Private Collection
Photo: Caroline Thibault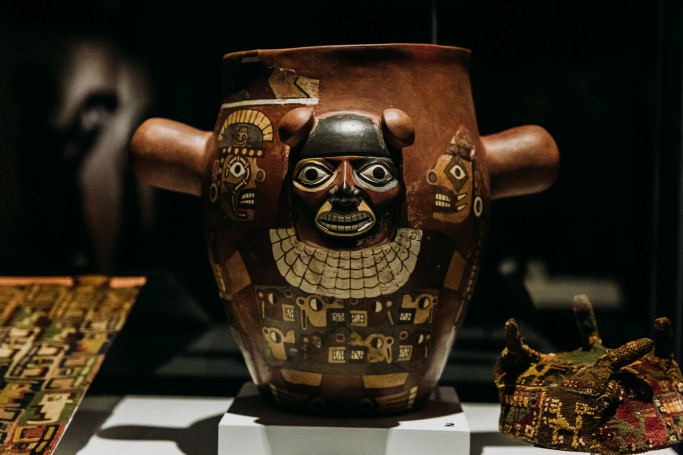 WARI
Vessel from Peru on which the Staff God wears a tunic decorated with feline heads and a necklace.
(600–900)
Terracotta
32 x 42 x 39 cm
Linden-Museum Stuttgart
Photo: Caroline Thibault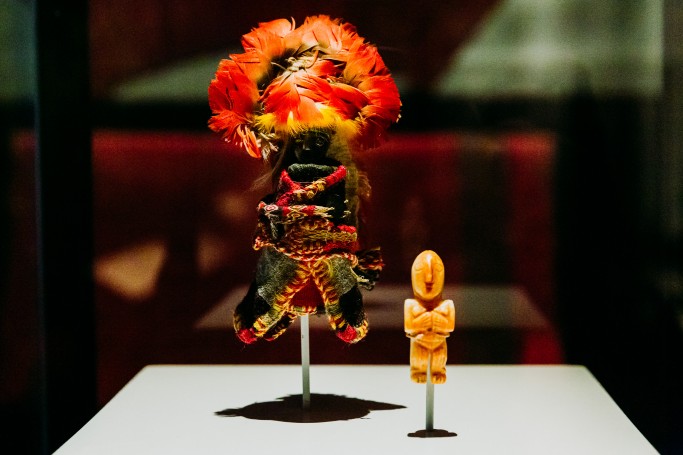 INCAS
Female figurine. Such gold or silver figurines symbolized the emperor or empress and were used as offerings during unusual events or natural disasters.
(1450–1532)
Silver, feathers, camelid wool, cotton
14 cm x 8.5
P. & D. Janssen-Arts Collection, Heritage Agency of the Flemish Community and the MAS, Antwerp Photo: Caroline Thibault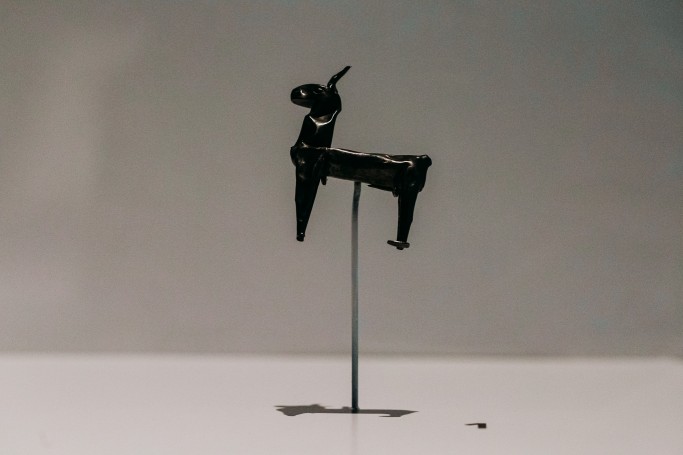 INCAS
Llama figurine used in a livestock-fertility ritual. Such offerings were among the funerary items placed in the graves of the elite.
(1450–1532)
Silver
6 x 4.6 x 1.3 cm
Musée du quai Branly–Jacques Chirac Photo: Caroline Thibault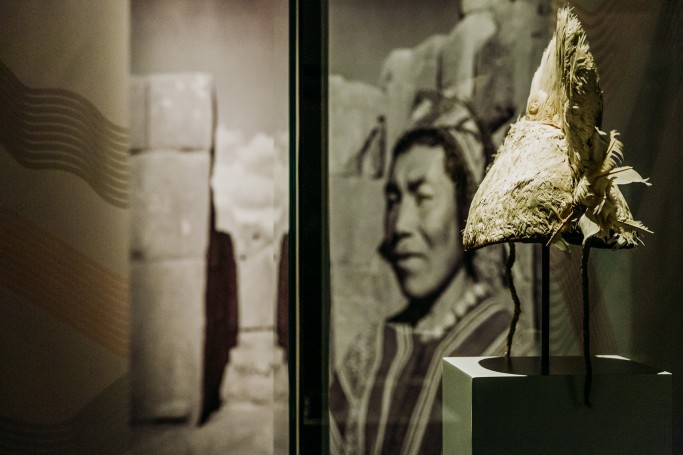 INCAS
Imperial feathered headdress
(1450 – 1532)
Feathers, plant fibres
34 x 55.5 cm
Royal Museums of Art and History, Brussels
Photo: Caroline Thibault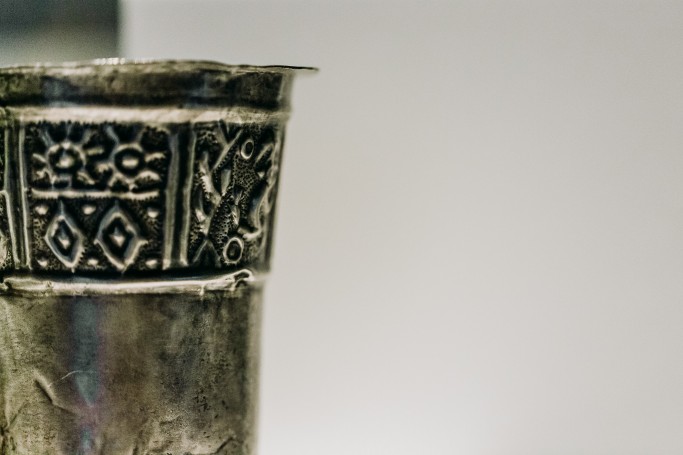 INCAS
Cup with zoomorphic decoration for chicha, the name the Spanish gave to the Incas' corn beer. The Incas considered chicha a noble and magical drink that allowed them to communicate with the gods.
(1450–1532)
Hammered and repoussé silver
12.4 x 10.7 cm
Musée du quai Branly–Jacques Chirac
Photo: Caroline Thibault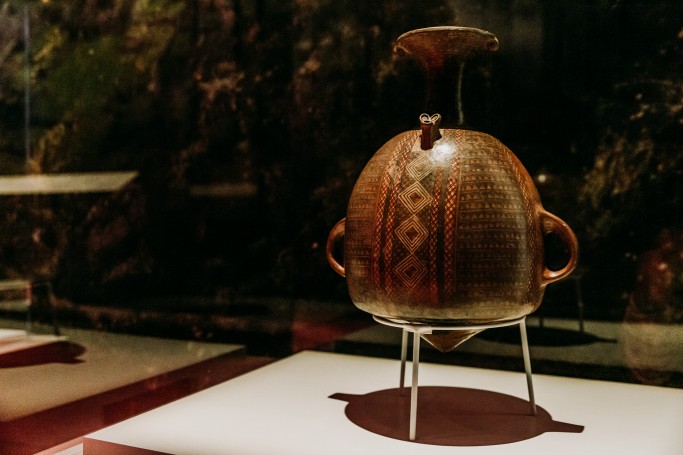 INCAS
The aryballos, or "Cusco bottle" was the most common form of Inca pottery. A sort of beer jar that was carried on the back and that had a new and unprecedented shape.
(1450–1532)
Terracotta
38 cm
Royal Museums of Art and History, Brussels
Photo: Caroline Thibault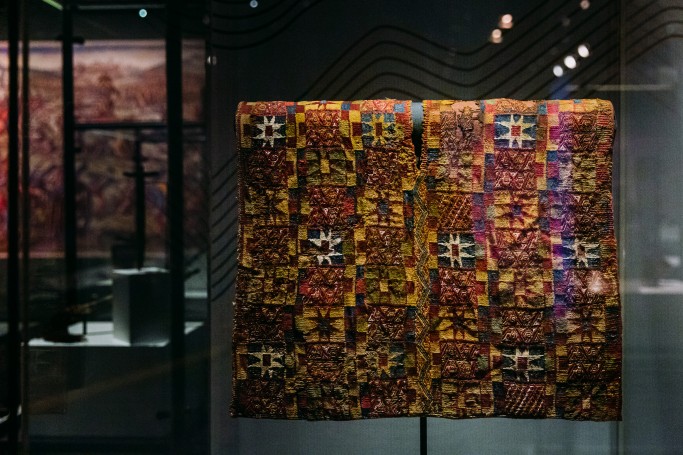 INCAS
Poncho (unku) made from a single piece.
(1450–1532)
Camelid wool, cotton
55 x 96 cm
Royal Museums of Art and History, Brussels
Photo: Caroline Thibault