The Archeolab.quebec Project Awarded by the Canadian Museums Association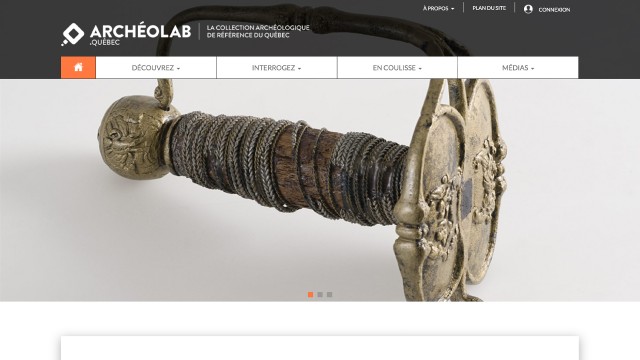 Archeolab.quebec, the online reference collection of Quebec's archaeological heritage, was awarded the Canadian Museums Association (CMA) 2019 Award of Outstanding Achievement in the "New media" category. Developed by Pointe-à-Callière, Montréal Archaeology and History Complex and the Ministère de la Culture et des Communications (MCC), this virtual collection provides online access to the most representative artifacts of the 10,500 archaeological sites listed to date in Quebec.
Since 2017, more than 1,500 artifacts have been digitized, documented, and put online on the platform, making Archeolab.quebec the main hub for resources related to Quebec archaeology. State collections as well as those belonging to one of the 20 partner institutions have been gathered for the first time and are now accessible to the public and researchers. There are also useful resources for heritage environment in general, including interviews with researchers, a bibliography and information capsules. Members of the jury of the CMA Awards of Outstanding Achievement, who recognize outstanding curatorial projects, unanimously acknowledged that the Archeolab project, of national stature, surpassed all the criteria of excellence and the standards of commonly accepted practice.
The initiative is part of a renewable citizen archaeology, which makes knowledge and its construction available to all audiences from here and abroad. The Archeolab project is in constant evolution and allows an upgrade of knowledge related to Quebec archaeological collections of references. Specialized experts are mandated to document the most representative artifacts according to different categories in light of the latest knowledge and specialized literature.
To consult the platform, go to archeolab.quebec.