Pointe-à-Callière News
May 11th, 2022
Release of the publication FEU — Lueurs et fureurs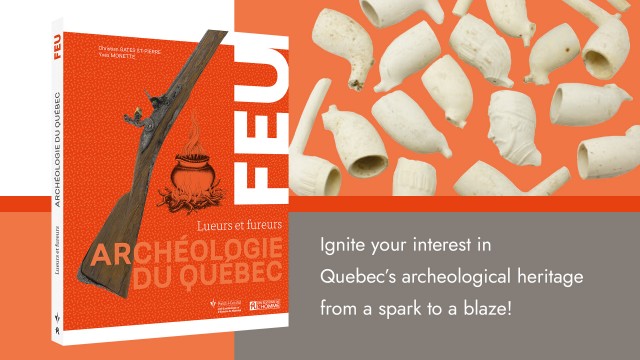 Samuel Tremblay-Boucher
Available May 13 in bookstores, at the Museum shop, and online!
After Air, Eau and Terre, Pointe-à-Callière, the Montréal Archaeology and History Complex, is releasing FEU — Lueurs et fureurs, the latest in its prestigious "Archéologie du Québec" anthology published by Les Éditions de l'Homme.
On sale starting May 13, this new and superbly illustrated work lays bare the indelible traces that fire has left on Quebec's soil. An indispensable yet destructive element, fire is intimately linked to human evolution. Its utility – and paths of destruction – have scattered tangible clues across the land that have let archaeologists write many pages of our history and deepen our knowledge in a unique way. From spark to blaze, ignite your interest in 60 years of research about the mastery and use of fire by both Indigenous peoples and Quebeckers of European descent.
Edited under the direction of Pointe-à-Callière, FEU — Lueurs et fureurs was written by two authors: Christian Gates St-Pierre, a professor and researcher at Université de Montréal, and Yves Monette, an archaeologist and material culture researcher, with the help of many specialists.
Discover a different side to Quebec in the "Archéologie du Québec" anthology!
In partnership with the Ministère de la Culture et des Communications du Québec, Pointe-à-Callière is pleased to present a rich portrait of Quebec's archaeological heritage through its "Archéologie du Québec" anthology. The collection currently consists of five titles, four of which focus on archaeological research based on the four elements: Air (2015), Eau (2017), Terre (2019) and Feu (2022). The fifth, Fragments d'humanité – Pièces de collection (2016), showcases artifacts from the provincial collections of Quebec's government and municipalities.
Do you have a passion for history and archaeology? Then get this anthology from the Museum's online shop and bookstores!