June 2022
Summer on the Point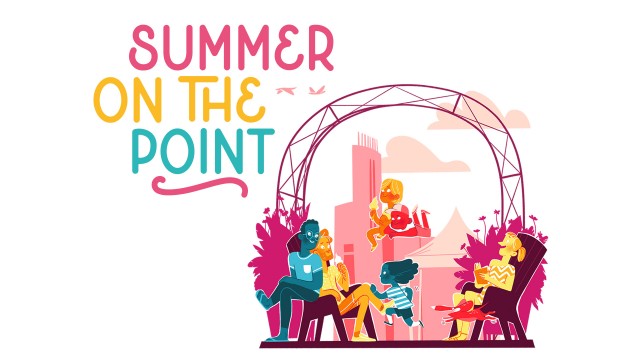 Illustration : Élodie Duhameau
---
Press Release
June 21 to October 10, 2022
Pointe-à-Callière announces its summer program of Viking and navigation themed activities.
Montréal, June 14, 2022 – Completely free of charge, family-friendly, and festive, the 2022 edition of "Summer on the Point" marks a major return of summer events at Pointe-à-Callière! With a nod to the great explorers and outstanding mariners known as the Vikings, and in honour of the Museum's "event" exhibition VIKINGS – Dragons of the Northern Seas, this summer's programming is built around the theme of navigation.
From June 21 to August 29, in the heart of Old Montréal, the pedestrianized space between Place Royale and Place D'Youville will come alive to the rhythms of Musical Middays, the fun of Family Sundays, and the excitement of the not-to-be-missed 18th Century Public Market. And to kick off the festivities, the Museum is inviting the public to a Scandinavian summer celebration on June 21, complementing the Vikings exhibition.
Viking and Scandinavian cultures take to the streets!
On June 21, the day of the summer solstice, from 4 pm to 7 pm, the Museum will launch its summertime program with Midsummer — A Celebration of the Season, a festive event that shines a spotlight on the Vikings and on Scandinavian traditions, through a partnership with FIKA(S), the Immersive Festival of Scandinavian / Nordic Kultur and Art. The VIKINGS – Dragons of the Northern Seas exhibition will stay open until 7 pm for the occasion, while outdoors, visitors will get to celebrate and interact with larger-than-life Vikings by exploring their culture. Performances by Les Ramancheurs and artist Marthe Halvorsen will also showcase traditional Scandinavian music and current Norwegian music. Working in a team, take part in the Desjardins Challenge to learn about Viking navigation techniques as you move a marble through a maze to get to your destination. Nearby, you can immortalize the moment in a photobooth. And to further celebrate summer, join family and friends for some refreshments at the snack bar! More info
"Family Sundays" are making a major comeback between July 10 and August 21 with tons of free participatory activities relating to the VIKINGS – Dragons of the Northern Seas exhibition. Young and old alike can immerse themselves in the daily lives of this ancient Nordic people by taking part in workshops held in a recreated Viking encampment. Listen as a skald recites myths and legends, learn about a formidable warrior's fighting techniques, explore the magical and exclusively feminine art of weaving in the Viking era, or play Orlog and other traditional games… Every Sunday offers another opportunity to prolong the adventure in a new way. See the complete program
Sway to the sounds of summer with "Musical Middays"
Every Thursday from July 7 to August 25, between noon and 1 pm, in the area around the Museum, visitors, passersby, and workers on their lunch break can enjoy musical performances by emerging Montréal artists. Through a partnership with Pop Montréal, Pointe-à-Callière's little outdoor stage will host Inus Aso (reggae), Alicia Clara (dream pop), Wayne Tennant (RnB), No Cosmos (jazz), The Lyonz (hip-hop), Philémon Cimon (indie-folk), Charlotte Brousseau (Francouvertes Semi-Finalist), and Frase (electro). See the program
An "18th Century Public Market" with a navigation theme
A true flagship event at Pointe-à-Callière for the past 29 years, the Public Market returns in its original format this year—taking place entirely in person—on Saturday, August 27 and Sunday, August 28. This impressive re-enactment, recreating the atmosphere of a market day in Montréal under the French Regime, is brought to life by a cast of authentic characters who used to frequent the weekly gathering. Merchants in their stalls, musicians, and artists will liven up the area, while visitors learn about traditional Indigenous know-how or take part in workshops about navigation in New France.
Through a partnership with the Secrétariat des affaires autochtones, the SDC du Vieux-Montréal, and Canadian Heritage. The complete program will be announced during the summer.
Keep the summer alive until October 10!
As of right now—and continuing until October 10—, visitors and passersby can take advantage of picnic tables, Adirondack chairs, a public piano, and other urban amenities in the pedestrian space decorated with a pavement fresco created by the artist SbuOne, through a partnership with the MU collective. This urban oasis in the heart of Old Montréal is also home to a Wish Tree, a participatory art installation marking the Museum's 30th anniversary and Montréal's 380th.
Thank you to our partners
"Summer on the Point" programming is made possible through the support of the City of Montréal, the borough of Ville-Marie, and the SDC du Vieux-Montréal, as well as Québecor, major partner of Pointe-à-Callière's family activities.
About Pointe-à-Callière, Montréal Archaeology and History Complex
Inaugurated in 1992 on the occasion of the city's 350th anniversary, Pointe-à-Callière is today the largest archaeology museum in Canada and the busiest history museum in Montréal. Rising above a concentrated number of historic and archaeological sites of national significance—including the birthplace of Montréal—, the Museum has a mission to preserve its collections and to further knowledge, while showcasing and fostering an appreciation for Montréal's archaeological and historical heritage. This mission is carried out through various activities focused on conservation, research, presentation, education, and inclusion, along with community initiatives benefiting both Montrealers and visitors to the city.
Pointe-à-Callière, proud partner of Ville de Montréal.
–30–
For images/visuals or interview requests, please contact us.
Source:
Nora Charifi
Communications Project Manager, Pointe-à-Callière
Tel: 514 872-2687 / Cell: 514 829-0955
[email protected]