Urban Space
June 21st, 2022
Midsummer — A Celebration of the Season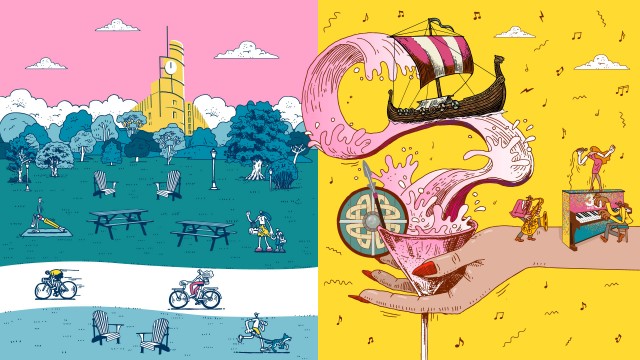 Dominique Boudrias
Tuesday, June 21, 2022
4 pm to 7 pm
Outdoors at the Museum, in the pedestrianized zone
350 Place Royale, Old Montréal
Free
Celebrate the start of summer, Scandinavian style (just like their Viking ancestors did)!
On June 21, the day of the summer solstice, take part in a festive event honouring the Vikings and Scandinavian traditions. The VIKINGS – Dragons of the Northern Seas exhibition will stay open until 7 pm for the occasion, while outdoors, we'll be welcoming the start of the summer season with music, games, and refreshments!
Join family and friends at our snack bar to help set the summertime mood as you celebrate with larger-than-life Vikings! Feel free to ask them about their customs and their culture.
Enjoy the engaging sounds of traditional Scandinavian music with Les Ramancheurs, and sway to the soft folk and pop-accented music of Norwegian artist Marthe Halvorsen.
Working in a team, take part in the Desjardins Challenge: gather in groups of three or four to form the crew of a langskip, moving a marble through a maze to get to your destination. Good coordination is a must if you want to reach your goal! An entertaining way to learn about the navigation techniques Vikings used to travel all the way to Canada… and even to Baghdad... without a compass! Nearby, you can immortalize the moment in a photobooth.
Skål!