February 2023
School Break at Pointe-à-Callière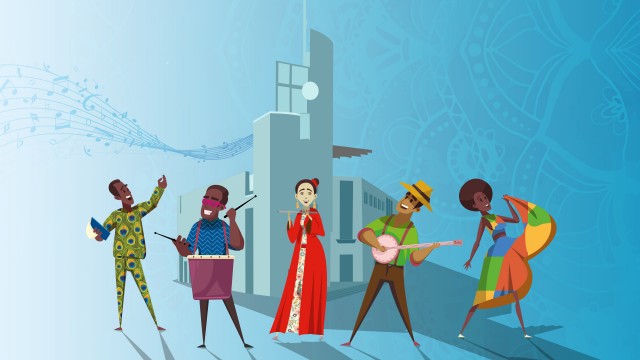 PRESS RELEASE
School Break at Pointe-à-Callière
Exploring the cultural traditions of Africa, Asia, and Latin America with artists from the communities
February 25 to March 4, 2023
Montréal, February 9, 2023 – Pointe-à-Callière, Montréal's Archaeology and History Complex, is inviting the public to take a cultural journey around the world with a veritable festival of free and family-friendly activities! Inspired by the current exhibition, Headdresses from Around the World, The Antoine de Galbert Collection, the activities will be held during School Break week, Saturday, February 25 to Saturday, March 4, 2023, from 11 am to 4 pm, outdoors, in front of the Museum and in Place Royale, in the heart of Old Montréal.
Art, storytelling, music, and traditional dance
Music and dance shows, storytelling, and participatory workshops will be taking place, presented by Montréal artists from the African, Asian, and Latin American communities. 20 artists will share their respective cultural traditions—which remain very much alive—with young and older visitors alike. A wonderful way to celebrate the city's vibrant cultural diversity!
Featuring:
Adama Daou – Percussion – Mali
Aurore Liang and Michelle Jiang – Storytelling and performances – China
Boogkow – Dance – Haiti
Collectif Yambae – Dance – Latin America
Daniel Prenoveau – Instruments from around the world
Djamboola – Dance – Africa
Franck Sylvestre – Storytelling – Africa and Martinique
Fodé Bamba Camara – Dance and music – Guinea
Gisèle Ndong Biyogo – Storytelling – Africa
Intercultur'art – Creative workshop – Africa
Julien Alvarèz Thomet – Percussion – Brazil
Komachi Montréal – Dance – Japan
Les Brasileirinhos – Storytelling – Brazil
Mireya Bayancela – Storytelling – Latin America
Saulo Giri – Storytelling – Latin America
Saya percussion – Percussion from around the world
Yu-Lin Tung – Storytelling, calligraphy, and painting – China
Yuki Isami – Instruments – Japan
Zuruba – Percussion and dance – Brazil
Besides, all week long, a culinary discovery awaits those with a sweet tooth! KotoAn wagashi will offer delectable Japanese confections along with a green tea or some Kuzuyu, a traditional hot drink. A treat for the taste buds… and a delight for the eyes!
Exhibitions: family-friendly fun and learning!
There are two temporary exhibitions to see during School Break at Pointe-à-Callière: ongoing until March 12, this will be the public's last chance to see the exhibition Headdresses from Around the World, The Antoine de Galbert Collection. Visitors are invited to embark on a wonderful journey of discovery, exploring some 300 headdresses and pieces of headwear from Africa, Asia, Oceania, and the Americas; the Favourites! Our Collections on Display exhibition brings visitors back to Montréal, showcasing its many facets through 400 "favourite" objects from the Museum's collections.
School Break also gives families the opportunity to have some fun with the permanent exhibition Come Aboard! Pirates or Privateers? A highly interactive and entertaining educational experience that gives 5-to-12-year-old adventurers a chance to delve into the life of renowned privateer Pierre Le Moyne d'Iberville!
Scavenger Hunt in Old Montréal
Alongside these activities, the public is also encouraged to seek out artwork created by children from two daycare centres in the neighbourhood, which is being displayed in the windows of various businesses in Old Montréal. Created during a workshop held through an association with Pointe-à-Callière, under the guidance of artist Lindsay Cornish, the works of art are inspired by the Headdresses from Around the World, The Antoine de Galbert Collection exhibition.
Celebrating 30 years of loyalty!
In November 1993, Pointe-à-Callière welcomed its very first Member... To mark the 30th anniversary of the establishment of its Membership program, the Museum is once again offering memberships at the rate of $30 this year (just $4 more than the price of a regular admission ticket), with family memberships available for $60 (for up to 5 people). Joining as a Member gives you unlimited access to the Museum and its exhibitions, along with several other advantages!
Thank you to our partners
School Break programming is made possible through the support of Québecor, the SDC du Vieux-Montréal, and the Ville-Marie borough.
About Pointe-à-Callière, Montréal Archaeology and History Complex
Inaugurated in 1992, on the city's 350th anniversary, Pointe-à-Callière is today the largest archaeology museum in Canada and the busiest history museum in Montréal. Rising above a concentrated number of historic and archaeological sites of national significance—including the birthplace of Montréal—, the Museum has a mission to preserve its collections and to further knowledge, while showcasing and fostering an appreciation for Montréal's archaeological and historical heritage. This mission is carried out through various activities focused on conservation, research, presentation, education, and inclusion, along with community initiatives benefiting both Montrealers and visitors to the city.
Pointe-à-Callière, proud partner of the City of Montréal.
-30-
Source:
Nora Charifi
Communications Project Manager, Pointe-à-Callière
Tel: 514 872-2687 / ncharifi@pacmusee.qc.ca
Press contacts:
Geneviève Harvey, Main Advisor
514-927-1525 / genevieve@rugicomm.ca
Stéphanie Culakowa, Main Advisor
514-245-1417 / stephanie.culakowa@rugicomm.ca