Cultural activity
February 25th, 2023 — March 4th, 2023
Spring Break on the Pointe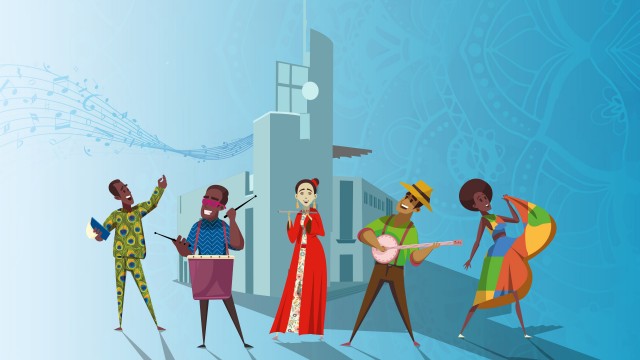 © Roméo Celli
February 25 to March 4, 2023
From 11 am to 4 pm
Outdoors
Free
FREE ACTIVITIES FOR THE WHOLE FAMILY!
During school break, Pointe-à-Callière is bringing you a veritable festival of free activities right outside the Museum. Come spend some fun quality time with your children… There's a whole lot to discover!
JOURNEY AROUND THE WORLD DURING SCHOOL BREAK
School Break 2023 at Pointe-à-Callière invites you to take a cultural journey around the world!
In the heart of Old Montréal, take a winter break and come enjoy a host of activities inspired by the current exhibition, Headdresses from Around the World, The Antoine de Galbert Collection.
Through music and dance shows, storytelling, and participatory workshops, Montréal artists from the African, Asian, and Latin American communities will introduce you to the artistic and cultural traditions of these three continents. Join the fun!
EXPLORE THE DAILY PROGRAMMING
Ongoing from 11 am to 4 pm, in front of the Museum and on Place Royale.
SAMPLE SOME WAGASHI!
All week long, a culinary discovery awaits those with a sweet tooth! Be sure to stop at the KotoAn wagashi kiosk to try their wagashi—delectable Japanese confections—along with a green tea or some Kuzuyu, a traditional hot drink. A treat for the taste buds… and a delight for the eyes!
OLD MONTRÉAL SCAVENGER HUNT
Join the scavenger hunt and look for artwork—relating to the Headdresses from Around the World, The Antoine de Galbert Collection exhibition—created by local children.
Pointe-à-Callière has joined forces with two Old Montréal early childhood care centres—Viroulu and Le Petit Palais—to offer a creative workshop for children, under the guidance of artist Lindsay Cornish. You can find their work in the windows of several businesses in the neighbourhood!