May 2023
SUMMER ON THE POINTE!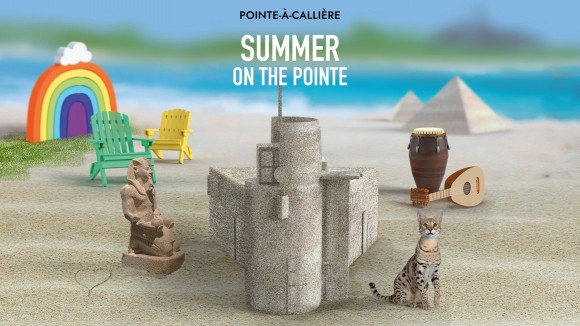 Press release
For immediate release
Pointe-à-Callière announces its summer programming
Until September 4, 2023
Free outdoor activities all summer long at the Museum!
(Montréal, May 18, 2023) – Completely free of charge, family-friendly, and festive, the 2023 edition of "Summer on the Pointe" at Pointe-à-Callière, Montréal's archaeology and history complex, is built around the theme of ancient Egypt.
Programming
The program for summer 2023 is inspired by the temporary exhibition Egypt. Three Millennia on the Nile. Several special activities on this theme will be taking place, along with the return of our main events, like Musical Middays (every Thursday from July 6 to August 17, at noon) and Family Sundays (every Sunday from July 9 to August 20, from 1 pm to 4 pm).
Summer programming will officially kick off with a Block Party, presented in collaboration with the Corridor Culturel, on Saturday, June 10, from 2 pm to 9:30 pm. On the program: creative workshops, Egyptian astrology, a bar, and music!
For its 30th edition, the 18th Century Public Market (Saturday, August 26 from 10 am to 7 pm, and Sunday, August 27 from 10 am to 6 pm) will take you back to the days of New France. Get ready to travel back through time!
Road closures
The zone from Place D'Youville West (between Saint-François-Xavier and Place Royale streets) to Place Royale West (between De la Capitale and Place D'Youville streets) will be closed to vehicles for the summer season—from Thursday, May 11 to Tuesday, September 5, 2023.
Street furniture—picnic tables and Adirondack chairs—will be back on the Pointe and around the Museum, providing a place to relax and take a break while the streets are closed.
Block Party on the Pointe
Saturday, June 10, 2023, from 2 pm to 9:30 pm
Outdoors / Free
A party is just the thing to kick off the Summer on the Pointe program, in collaboration with the Corridor Culturel! In the afternoon, visitors can enjoy artistic and musical performances, in addition to attending interactive creative workshops. The afternoon's fun and family-friendly ambience will slowly give way to a party atmosphere as evening falls. On the program:
-Egyptian-themed serigraphy workshop, with Léa Mercante
-Astrology and Egyptian oracle kiosk, with the Pointe-à-Callière Foundation
-Music, with Olicorno (music and poetry), Strawberry Jam, Nicholas Cangiano / FERIAS collective (DJ set), and much more!
Refreshments will be available from a pop-up bar run by Les Conifères from Saint-Adolphe-d'Howard, and visitors will find comfy hammocks and Karibou bean bags to use in the relaxation zone.
On this special day, open and welcoming to one and all, the exhibition Egypt. Three Millennia on the Nile will be open from 5 pm to 8 pm for the occasion ($).
MUSICAL MIDDAYS at Pointe-à-Callière
Every Thursday, from July 6 to August 17, noon to 1 pm
Outdoors / Free
Every Thursday at noon, come enjoy musical performances by emerging Montréal artists, presented in collaboration with Pop Montréal. Bring your lunch, take a seat at one of our picnic tables or on our Adirondack chairs, and listen to some great music! Pop, folk, soul, indie, brass band… there's something for everyone!
FAMILY SUNDAYS at Pointe-à-Callière
Every Sunday, from July 9 to August 20, 1 pm to 4 pm
Outdoors / Free
In the heart of Old Montréal, take advantage of a wide range of free, family-friendly activities inspired by the current exhibition, Egypt. Three Millennia on the Nile. Music, dance, storytelling, animal encounters, and participatory workshops are on the program, introducing you to the artistic and cultural traditions of Egypt, and more broadly, the Arab world. A wonderful way to delve deeper into the age-old history of Egyptian civilization!
Through the support of Québecor, major family activities partner.
EXHIBITIONS, a family-friendly way to learn and have fun!
There are four temporary exhibitions to explore at Pointe-à-Callière this summer: until October 15, Egypt. Three Millennia on the Nile is an immersion into the daily, social, and religious life of an age-old civilization through over 300 authentic objects on display; presented from June 23 to October 9 in Old Fire Station No. 1, Montréal Capital City takes you back to 1849 when our city was the capital of Canada; just outside, on Place D'Youville West, the outdoor exhibition A Parliament Beneath Your Feet is an opportunity to discover a little-known period of history by exploring key areas of the archaeological site of St. Anne's Market and the Parliament of the Province of Canada; and lastly, Favourites! Our Collections on Display looks at the many facets of Montréal through 400 "favourite" objects from the Museum's collections.
You can also see the popular permanent exhibition Come Aboard! Pirates or Privateers?, a highly interactive and truly entertaining educational experience that gives 5 to 12-year-old adventurers a chance to delve into the life of renowned privateer Pierre Le Moyne d'Iberville!
Celebrating 30 YEARS of loyalty!
In November 1993, Pointe-à-Callière welcomed its very first Member… To celebrate the 30th anniversary of the program this year, individual Museum memberships will remain available at the special price of just $30 ($4 more than the price of a single admission ticket), and $60 for family memberships (up to 5 people). By becoming a Member, you get to enjoy unlimited access to the Museum and its exhibitions for one year, along with several other exclusive advantages!
THANK YOU to our partners
Summer programming is free of charge and is made possible through the support of Québecor, the Société de développement du Vieux-Montréal, and the borough of Ville-Marie.
About Pointe-à-Callière, Montréal's Archaeology and History Complex
Inaugurated in 1992, on the city's 350th anniversary, Pointe-à-Callière is today the largest archaeology museum in Canada and the busiest history museum in Montréal. Rising above a concentrated number of historic and archaeological sites of national significance—including the birthplace of Montréal—, the Museum has a mission to preserve its collections and to further knowledge, while showcasing and fostering an appreciation for Montréal's archaeological and historical heritage. This mission is carried out through various activities focused on conservation, research, presentation, education, and inclusion, along with community initiatives benefiting both Montrealers and visitors to the city.
Pointe-à-Callière, proud partner of the City of Montréal.
– 30 –
SOURCE: POINTE-À-CALLIÈRE, MONTRÉAL'S ARCHAEOLOGY AND HISTORY COMPLEX
Katia Bouchard, Communications and Marketing Director
T: 514 872-9124 / [email protected]
MEDIA CONTACTS:
Geneviève Harvey / 514-927-1525 / [email protected]
Stéphanie Culakowa / 514-245-1417 / [email protected]