Temporary exhibition
April 20th, 2023 — October 15th, 2023
Egypt. Three Millennia on the Nile
© Museo Egizio / Illustration : © Marie-Ève Turgeon / Design : Dominique Boudrias
From April 20 to October 15, 2023
Ancient Egypt reveals its secrets at Pointe-à-Callière!
With its 3,000-year history, ancient Egypt is one of the world's longest-lasting and most brilliant civilizations. We have ancient Egypt to thank for our intellectual heritage, our writing, the birth of architecture, our concept of space, time, and eternal life...
In an exclusive North American presentation, the exhibition Egypt. Three Millennia on the Nile showcases over 300 authentic objects from the collection of Museo Egizio in Turin, Italy, displayed throughout an exceptional exhibition layout that takes you on a journey through history. From the civilization's origins to its conquest by the Romans, delve into the heart of this age-old, strongly hierarchical society whose backbone was formed by the majestic Nile River. A moving and immersive experience awaits you, putting a human face on daily, social, and religious life in the age of the pharaohs!
At the heart of Egyptian society
Mysterious and distant, ancient Egypt has continued to fascinate us across the centuries, arousing interest and excitement with each new discovery. There is no denying that this civilization has not yet revealed all its mysteries…
The exhibition examines the lives of the women, men, and children who made up the Egyptian people. From the fisherman to the pharaoh, scribe, priest, and embalmer… learn more about the way society was organized and the structures of power. Find out about animal worship, as well as funeral and religious practices. Tools, everyday objects, and jewelry are displayed alongside sarcophagi, stelae, mummies, and monumental statues.
Don't miss this captivating, must-see exhibition on a civilization that still has many surprises in store for us!
This exhibition is produced by Pointe-à-Callière, in collaboration with Museo Egizio.
Videos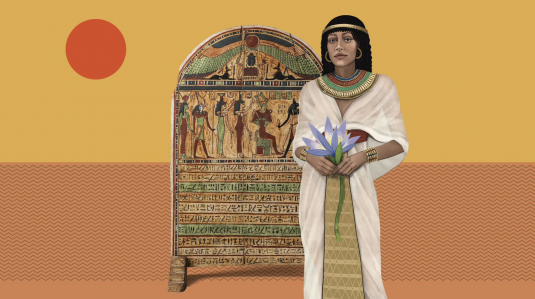 To continue your visit to ancient Egypt...
With Élisabeth Côté
Ancient Egypt unveils its mysteries at Pointe-à-Callière!
With Perrine Poiron
Why has the cat been our favourite animal for thousands of years?
With Paolo Marini
This sarcophagus is an ancient Egyptian masterpiece!