December, 2021
Free admission at Pointe-à-Callière over the holidays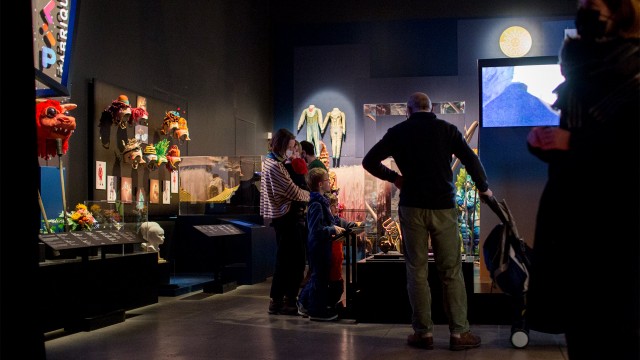 It's Circus Time! exhibition. Photo credit: © Sébastien Roy / Pointe-à-Callière
---
Press release
STARTING TOMORROW AND CONTINUING UNTIL JANUARY 2, POINTE-À-CALLIÈRE WILL WELCOME THE PUBLIC - FREE OF CHARGE
For the holiday season, the Museum has a gift for all its visitors: free admission to all its exhibitions, both temporary and permanent, from December 18, 2021 to January 2, 2022 inclusively.
Pointe-à-Callière is inviting the public to come take advantage—solo, as a couple, or with the whole family—of its stimulating and enriching cultural offerings, free of charge!
However, timestamped tickets for a specific date are required; reservations may be made online.
Note that while vaccine passports are not required when visiting museums, health measures—such as limited room capacities, mask wearing, and physical distancing—remain in effect.
Learn more about health and safety measures at the Museum
Things to see and do at Pointe-à-Callière during the holidays
Over the holiday season, Christmas magic meets the wonderful world of the circus in our very family-friendly program of activities:
Not to be missed: It's Circus Time!, a colourful and fun temporary exhibition that shines a spotlight on the circus arts here at home and abroad.
CANCELED - December 27 to 30, at 1 pm, 2 pm, 3 pm, and 4 pm: Under the Big Top at Pointe-à-Callière—creative workshops complementing the exhibition. Ages 6 and up. Reservation and vaccine passport required.
Until January 3: Holidays on the Point, an invitation to come take a magical and contemplative break on Place Royale in Old Montréal. Surprise activities on Saturday and Sunday, December 18 and 19, from 11 am to 4 pm.
Still on!
About Pointe-à-Callière, Montréal Archaeology and History Complex
Pointe-à-Callière, the birthplace of Montréal, is the city's largest history museum. Rising above a concentrated number of historic and archaeological sites of national significance, the museum's mission is to raise awareness and foster an appreciation of Montréal, past and present. This is achieved through various outreach, education, conservation, and research activities focused on Montréal's archaeological and historical heritage, while forging bonds with regional, national, and international networks in these fields for the benefit of our visitors.
Pointe-à-Callière – Proud partner of Ville de Montréal
-30-
To request images and visuals, please contact us.
Source:
Nora Charifi
Communications Project Manager, Pointe-à-Callière
Tel: 514 872-2687 / Cell: 514 829-0955
[email protected]