Public Market
August 27th, 2022 — August 28th, 2022
18th Century Public Market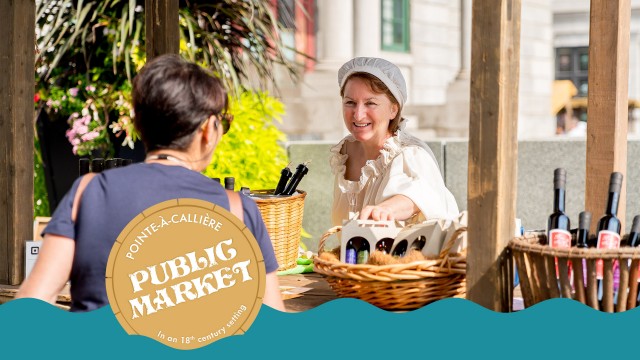 Samuel Tremblay-Boucher
August 27 & 28, 2022
Saturday: from 10 a.m. to 7 p.m.
Sunday: from 10 a.m. to 6 p.m.
Outdoors at the Museum, in the pedestrianized zone
350 Place Royale, Old Montréal
Free
Pointe-à-Callière's flagship event takes you to the heart of New France
Pointe-à-Callière's Public Market is back this year for a 29th edition, taking place entirely in person! This incredible re-enactment, recreating the atmosphere of a market day in Montréal under the French Regime, is brought to life by an array of authentic historical figures that once frequented the site, as well as musicians. On the street that runs alongside the Museum, as well as on Place Royale and Place D'Youville, stroll through the merchants' and artisans' stalls, learn about traditional Indigenous know-how and trades of the past, and take part in activities on the theme of navigation in New France—all taking place in a festive ambience that will whisk you back to the 18th century, in the heart of Old Montréal!
Explore trades of the past
Wool spinner, lace maker, calligrapher, lute maker, potter, pit sawyer, bookbinder, dyer, weaver, cooper, carter, and woodturner—come meet the craftspeople you would have seen at a public market in the 18th century.
Indigenous traditions and age-old know-how
At Montréal's very first marketplace, Indigenous and French people would meet to buy and sell products or share the latest news. Learn about the know-how of Anishinaabe, Abenaki, Mi'kmaq, Naskapi, and Kanyen'kehà:ka artisans who continue to pass down ancient living traditions from one generation to the next. See demonstrations of leather tanning, cooking, ancestral hunting techniques, and basketwork, as well as the making of moccasins, cradleboards, and dreamcatchers.
Games and workshops on navigation, for young and old
In the days of New France, navigation was of paramount importance for the transportation of goods and voyageurs to the market, either across the Atlantic or along the St. Lawrence. Take part in a rally on the theme of navigation taking place throughout the Market, learn how to make sailors' knots from some privateers, or defend your position in a giant naval battle game!
Military encampment, historical figures, and musicians
Noblemen, peasants, musicians, villagers, sailors, soldiers… a whole cast of characters would frequent the market under the French Regime. Did you know that the market was also host to a military camp? See parades and firing exercises, enjoy musical performances on early instruments, and meet Gilles Hocquart (1729-1749), the intendant of New France, Louise de Ramezay (1705-1776), and Charles Le Moyne de Longueuil (1656-1729)!
A market like in the days of New France
Stroll among the merchants' stalls and stock up on local products from Québec!
Les Caprices du pré;
Les Délices de Sophie  ;
Les Jardins de Caroline ;
Freeze-Frame on New France | CONTEST à
Enter the Public Market's contest by capturing the ambience of New France in a photo. Share your best photo on Instagram using the hashtag #PACMarket2022 and tagging the Museum with @pointeacalliere. An AML cruise and an annual membership to the Museum will be drawn as prizes. The draw will take place on Monday, August 29 at noon.