Cultural activity
March 31st, 2017 — April 1st, 2017
Le FIFA

© Wapikoni
Pointe-à-Callière is proud to host eight films presented by the 35th International Festival of Films on Art (FIFA).
The International Festival of Films on Art is devoted to the promotion and distribution of the world's finest productions on art and media art. The only event of its kind in North America, and the largest in the world, this competitive festival had become a much-anticipated and unmissable event. An annual focal point for the world of art, culture and cinema, FIFA has presented nearly 6,000 films from 75 countries.
Friday, March 31
6 pm
Batailles
CANADA | 2016 | 4 MIN
As night falls, Karen decides to leave the party, her battlefield. A film that is like a slam, an ode to passion, a shield against darkness.
Danser l'espoir : Portrait de Germaine Acogny
CANADA | 2016 | 43 MIN
The birth of contemporary dance in Africa is due in no small part to Germaine Acogny. In this documentary by Canadian directors Vali Fugulin and Martin Morissette, she looks back, at the age of 70, at the milestones in her career, her work with Maurice Béjart and in particular with the École des Sables in Senegal.
Keep the flame - don't pray to the ashes, The choreographer Martin Schläpfer
GERMANY | 2016 | 53 MIN
Can an artist constantly renew his commitment to freedom, beauty and aesthetic nuance? Choreographer Martin Schläpfer, who has directed the Ballet am Rhein Düsseldorf since 2009, is a preeminent figure in the European dance world. As he works on two major choreographies—Alltag, a ballet conceived for him by collaborator Hans van Manen, and Deep Field, a work set to the music of contemporary composer Adriana Hölszky—director Annette Von Wangenheim captures the essence of the artist in his tireless investigations of movement and beauty—as much in his daily life as his creative process.
8:45 pm
Silenced – Composers in Revoluntionary Russia
GERMANY | 2016 | 55 MIN
The documentary series Music in Times of War and Revolution explores the connections between music and politics. In this second segment, Anne-Kathrin Peitz explores the lives and the work of a lesser-known generation of Russian composers that includes Arthur Lourié, Nikolai Roslavets, Alexander Mosolov, Sergei Prokofiev, Leon Theremin and Arseny Avraamov. Adventurous, flirting with futurism and deconstructing conventional musical codes, this avant-garde group, which lived through the First World War, the October Revolution and the birth of the Soviet Union under Stalin, was banned, forgotten or erased from the musical map.
Varicella
NORWAY | 2015 | 25 MIN
Nastia, aged 13, and her 7-year-old sister Polina, share a dream of becoming star ballerinas. Admitted to a prestigious Russian ballet academy, they are both completely devoted to their rigorous and demanding training. Victor Kossakovsky's documentary presents their close relationship and their love of dance, as Nastia encourages her sister to "dance with an open soul."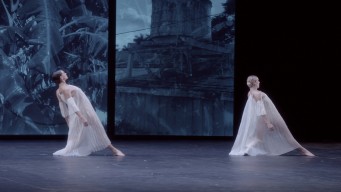 © Kaléo Films
Saturday, April 1
6 pm
Dans les pas de Trisha Brown
FRANCE | 2016 | 79 MIN
Trisha Brown's play Glacial Decoy is now part of the repertoire of the Ballet de l'Opéra de Paris. Her innovative and enchanting movements are captured as the choreography is passed on to the dancers.
Reza Derakshani: The Breeze at Dawn
UNITED STATES | 2016 | 8 MIN
Multidisciplinary artist Reza Derakshani invites us into his studio to explore his world, his music, his painting, his words and his myriad influences.
8:45 pm
Bliss, épopée d'une création
FRANCE | 2015 | 90 MIN
Choreographer Anthony Egéa has created the first large-scale production combining hip-hop and electro dance. Drawing inspiration from dance floors and raves, and with the aim of forming a veritable hip hop ballet, Egéa leads his team on an amazing journey. This documentary follows the show's creation, the selection of dancers at the first audition, and the rehearsals conducted throughout France.