Hydro-Québec Multimedia Theater
Award ceremonies, corporate presentations, projections (Betacam, VHS, SVHS, DVD, HDTV), lectures or other special events.
Simply breathtaking!
This newly updated room, outfitted with cutting edge audio and video equipment, is available for lectures and presentations. The retractable stage appears to float above the archaeological remains, surrounded by an immersive 270-degree screen that offers a multitude of possibilities for presentations or to create specific moods. Speakers will certainly feel in control before their audience, and spectators will be captivated by the show going on right before their eyes. A unique environment for an unforgettable event.
Add a screening of our multimedia show Yours Truly, Montréal bringing the history of the metropolis to life, from the Ice Age to the present day.
Capacity
144 people seated
180 people (total capacity)
Stage
The stage is an elevated platform that is accessed via a ramp coming out of the left side of the screen.
Scene Dimensions
6.6 m X 3.5 m
Maximum capacity of 15 people
High-speed Internet access and connections for 3 computers
Rental includes:
Choice of 270-degree background on screen
The projection of presentations on the rear screen (3.8 m high X 5.1 m wide)
Choice of ambient lighting on stage
Several microphone options
HD DVD player
Other possibilities:
Opportunity to record and webcast video and audio
More elaborate projections on the entire screen are also possible
Simultaneous translation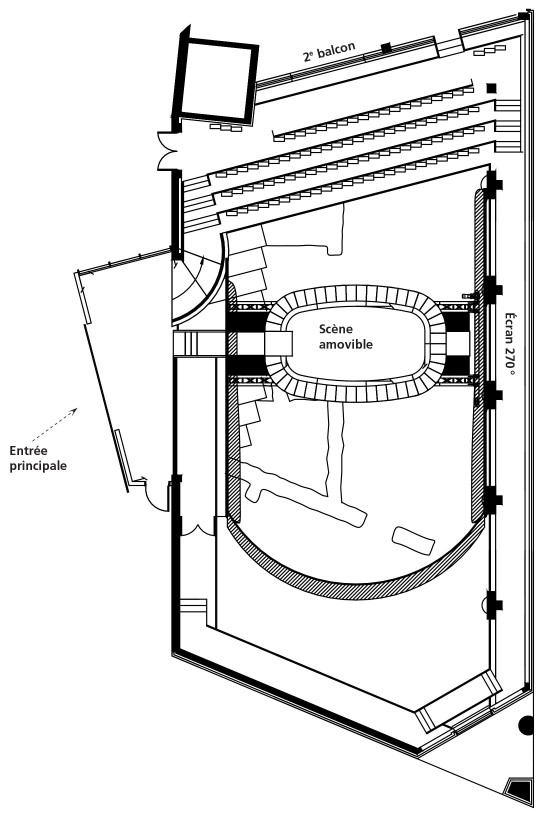 More venues
Mariners' House Lobby
Cocktail
Launches, cocktail parties, award ceremonies, press conferences
Montréal 360° Space
Cocktail
Press conference
Cocktail parties, fireworks evenings, launches, press conferences