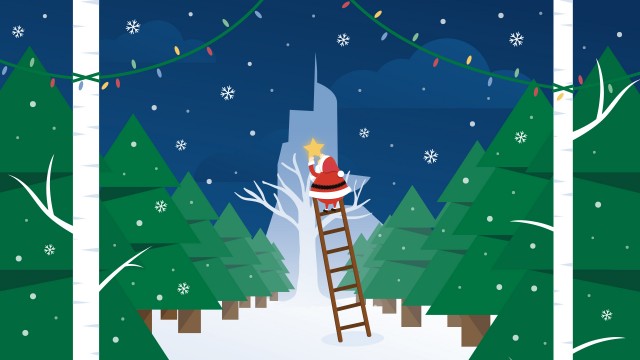 November 25 to January 8
Indoor and outdoor activities
At the Museum, 350 Place Royale
ENJOY A FLURRY OF HOLIDAY ACTIVITIES AT POINTE-À-CALLIÈRE!
For the holiday season, Pointe-à-Callière will transform into a place of enchantment where young and old can enjoy creative activities and unwind in an outdoor relaxation area.
RELAXATION AREA INSPIRED BY WINTER SPORTS
Starting November 25, come to Place Royale in the heart of Old Montreal to set your sights on our seasonal decor that conjures up the coziness of ski chalets while paying tribute to winter sports. Take a break from the holiday hubbub and get comfy on our stools surrounded by light-adorned trees. The only thing missing may be a mug of hot chocolate!
From December 26 to 30, come to the big igloo in front of the Museum to hear Befana, Melchior, Pascual and Santa Claus tell you about Christmas legends from around the world.
From December 26 to 30 and January 3 to 6, attend our creative workshops for the whole family related to our exhibition Headdresses from around the World, The Antoine de Galbert Collection.