June 2020
Your Museum, Your Montréal! Pointe-à-Callière welcomes visitors back to the Museum
Montréal, June 25, 2020 – Today, Thursday, June 25, Pointe-à-Callière once again welcomed visitors after having been temporarily closed for over 14 weeks. The first visitors were greeted by a welcoming committee, who enthusiastically welcomed them back and thanked them for supporting the cultural institution.
Visitors had access to all of the Museum's exhibitions, including temporary exhibitions The Incas, Treasures of Peru and Into the Wonder Room, as well as a new display case dedicated to the 350th anniversary of the Hudson's Bay Company. All appropriate measures were taken to ensure a safe and pleasant visit to the Museum. "Come explore your Museum, your Montréal, your journey, your history, and your discoveries!" stated Anne Elisabeth Thibault, Director of Exhibitions and Technology. "Without the opportunity to journey abroad, we are giving visitors another way to travel, either by exploring Peru or by traveling through time to discover the cabinets of curiosities of past centuries or experience great moments in the city's history," she added.
Note that for the summer season, the Museum is open from Tuesday through Sunday, from 11 am to 5 pm, and that it will be open on Canada Day, July 1st. People can purchase admission tickets online, and to avoid time constraints in the various exhibition rooms, tickets are not timestamped. Also, everyone who purchases a ticket online before the end of the day on June 26 will have a chance to win a one-year subscription to the Museum! Visitors can also take advantage of discounts ranging from 20 to 50% off a wide variety of items at the Museum Shop over the coming weeks.
L'Arrivage Bistro by Philippe Mollé scheduled to reopen on July 4
For its part, L'Arrivage Bistro by Philippe Mollé will be welcoming patrons starting on July 4 with a special brunch menu showcasing local products from smaller producers. Shoppers can also "buy local" at Philippe's little market, which will feature take-out meals, fresh bread, and several products selected by the chef!
Package Plans: a great way to enjoy Old Montréal
As part of the Québec Ministry of Tourism's attractions passport initiative, Pointe-à-Callière has joined forces with several other Old Montréal attractions to offer a variety of highly appealing packages! In addition to visiting the Museum, Montrealers and visitors can take advantage of a 40% discount from Croisières AML, Guidatour, La Grande Roue de Montréal, Hélicraft helicopter tours, Les Forges de Montréal, and Voiles en Voiles, among others.
See complete package details (in French only): https://www.quebecvacances.com/passeport-attraits
Further details on current offerings at L'Arrivage Bistro by Philippe Mollé: https://pacmusee.qc.ca/en/plan-your-visit/museum-restaurant/
Further details on the health and safety measures in effect at the Museum: https://bit.ly/guidelinesPAC
High-resolution photos are available here: https://bit.ly/reouverturePAC
Source:
Eveline Trudel-Fugère
Communications Projects Manager
Pointe-à-Callière
Phone: 514-704-2225
etfugere@pacmusee.qc.ca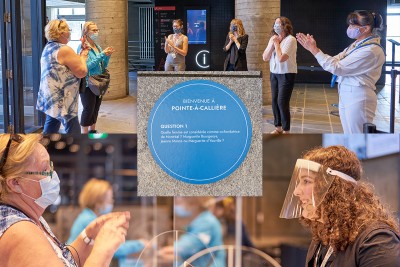 Photo: Romain Guilbault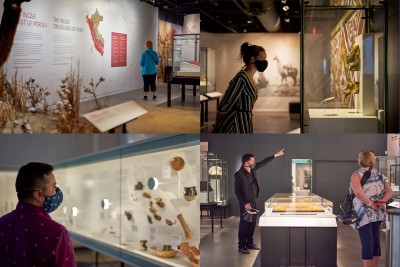 Photo: Romain Guilbault