August 2022
Pointe-à-Callière's 18th Century Public Market makes a major comeback!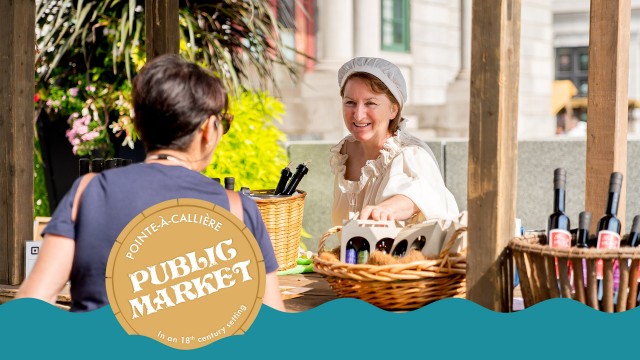 ---
Press Release
Saturday, August 27 and Sunday, August 28, 2022,
outside the Museum in the pedestrian zone (350 Place Royale, Old Montréal)
-FREE-
With navigation as its theme, this 29th edition of the Public Market is host to over 70 stalls, with a focus on the transfer of skills and know-how.
Montréal, August 17, 2022 – Pointe-à-Callière's flagship event returns for a free 29th edition—100% in person! From 10 am to 7 pm on Saturday, August 27, and 10 am to 6 pm on Sunday, August 28, Pointe-à-Callière is recreating the atmosphere of a typical Montréal market day in 1733, right outside the walls of the Museum. Workshops, demonstrations of traditional know-how, games, music, and merchants' stalls are on the program, with everything taking place in a festive and family-friendly setting.
Including a historical section brought to life by an array of authentic figures, musicians, merchants, and craftspeople, as well as a contemporary section in which a new generation of artisans will undertake to pass down ancestral practices, Pointe-à-Callière's Public Market creates bridges between the past and the present. A summertime "must" that takes you on a journey through time, right in the heart of Old Montréal!
A public market, just like in the days of New France
On the street that runs alongside the Museum, as well as on Place Royale and Place D'Youville, Pointe-à-Callière is bringing Montréal's very first marketplace back to life—on the very spot it once stood under the French Regime. A tradition imported from Europe, which brought together all strata of society to buy, sell, or share the latest news. The market even held a military encampment! Over the two days of festivities, the public will get to meet noblemen, peasants, villagers, sailors, and soldiers in period dress, while purchasing local and artisanal products. Firing exercises, military marches, musical performances—a wide range of activities add to the ambience!
A place for tradition and the passing down of age-old know-how
In reviving this moment of 18th century daily life in Montréal, Pointe-à-Callière's Public Market offers an incredible opportunity to immerse oneself in the realities of life in New France. At that time, the market was an important place for meetings and trade between Indigenous and French people, where knowledge and skills inherited from ancient traditions coexisted.
In the contemporary section, an entire generation of Abenaki, Anishinaabe, Kanyen'kehà:ka, Mi'kmaq, and Naskapi artisans will continue to keep alive and pass along age-old know-how by leading workshops on leather tanning, cooking, and basketwork, as well as the making of moccasins, cradleboards, and dreamcatchers.
Wool spinning, lace making, calligraphy, lute making, pottery, basketwork, mitten making... in the historical section, visitors will learn about trades of yesteryear and Indigenous practices through demonstrations and participatory workshops.
Navigation-themed activities for young and old
In the days of New France, navigation was an activity of paramount importance, notably for the transportation of goods, merchants, and buyers to the market. A new rally for families will acquaint participants with the daily lives of sailors, pirates, and privateers, while having fun with puzzles, quizzes, and other challenges throughout the site. There will also be a workshop on sailors' knots and several other entertaining activities with a maritime flair, including a giant naval battle game!
Public Market Contest
Throughout the weekend, visitors are encouraged to immortalize the ambience of New France by sharing their photos on Instagram, using the hashtag #MarchéPAC2022 and tagging the Museum with @pointeacalliere. An AML cruise and an annual Museum membership will be drawn as prizes.
The draw will take place on Monday, August 29 at noon.
Complete information on the Public Market is available at pacmusee.qc.ca/en/calendar/event/public-market-2022.
** Acknowledgements**
The 18th Century Public Market is a Pointe-à-Callière event, organized with the financial support of the Secrétariat aux affaires autochtones, the SDC du Vieux-Montréal, and Canadian Heritage.
About Pointe-à-Callière, Montréal Archaeology and History Complex
Inaugurated in 1992 on the city's 350th anniversary, Pointe-à-Callière is today the largest archaeology museum in Canada and the busiest history museum in Montréal. Rising above a concentrated number of historic and archaeological sites of national significance—including the birthplace of Montréal—, the Museum has a mission to preserve its collections and to further knowledge, while showcasing and fostering an appreciation for Montréal's archaeological and historical heritage. This mission is carried out through various activities focused on conservation, research, presentation, education, and inclusion, along with community initiatives benefiting both Montrealers and visitors to the city.
Pointe-à-Callière, proud partner of the City of Montréal.
–30–
For images/visuals or interview requests, please contact us.
Source:
Nora Charifi
Communications Project Manager, Pointe-à-Callière
Tel: 514 872-2687 / Cell: 514 829-0955
[email protected]