August 2023
Public Market of the 18th Century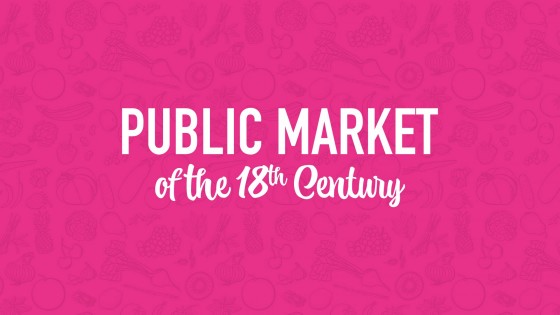 Press Release
For immediate release
A festive 30th anniversary edition of Pointe-à-Callière's Public Market of the 18th Century
Saturday, August 26 and Sunday, August 27, 2023, outside the Museum in the pedestrianized zone (350 Place Royale, Old Montréal)
- FREE -
(Montréal, August 16, 2023) - Pointe-à-Callière, Montréal's archaeology and history complex, is holding the 30th edition of its not-to-be-missed Public Market of the 18th Century on Saturday, August 26 from 10 am to 7 pm, and Sunday, August 27 from 10 am to 6 pm, outdoors. With this anniversary edition, the Museum will take visitors back to the year 1717… and to a day of celebration on Montréal's very first marketplace! There will be even more dancing and music than usual, making for an unforgettable event, just like in the days of New France. Guaranteed fun!
30 years of passing on traditions and time-honoured know-how
In August 1993, just one year after it opened, Pointe-à-Callière held the very first edition of what would go on to become one of its flagship events: an outdoor market, like those in the days of New France, on the exact location of Montréal's marketplace during the French Regime!
The Market's historic section revives this tradition, imported from Europe, in which all strata of society rubbed shoulders. Noblemen, peasants, artists, sailors, soldiers, and even pirates came together on the marketplace to buy, sell, and hear all the latest news.
Featuring a whole gallery of authentic figures, along with lively music and dancing, this section is also focused on several trades of the past. Artisans will passionately share their traditional know-how, showcasing such crafts as wool spinning, lute making, shingle making, lacework, bark canoe building, pit sawing, and wood turning. Military marches, fencing, sailors' knot workshops, a giant naval battle game, and several other activities complete the festive setting, to the delight of young and old alike!
Building bridges between the past and the present, the Market's contemporary section introduces visitors to a new generation working to pass along certain age-old practices. Abenaki, Anishinaabe, Kanyen'kehà:ka, Mi'kmaq, and Wendat artisans will give presentations on traditional dance and music, leather tanning, cooking, and hunting techniques, as well as demonstrating how moccasins, cradleboards, and dreamcatchers are made. A great opportunity to share and engage in discussion!
Do your groceries in an 18th century setting!
To celebrate the Public Market's 30th anniversary, Pointe-à-Callière has joined forces with BreWskey craft brewery in Old Montréal. In honour of the Museum, the renowned brewery has created the tasty and refreshing "Pinte-à-Callière," a lightly hopped blonde beer that the public can enjoy at the Market Inn. A unique refreshment!
With its many stalls, Pointe-à-Callière's Public Market also offers a wonderful opportunity to stock up on Québec products and artisanal goods. Quality products, both sustainable and respectful of the environment, showcasing local heritage.
See the full list of merchants
An eco-friendly event
For several years now, Pointe-à-Callière has been working to minimize the environmental impact of its must-attend event! Below are some of the actions that have been taken:
-Pursuit of a "zero paper" policy. -Availability of RECYC-QUÉBEC sorting stations (recyclable, compostable, disposable materials, and eco-cups) and water fountains.
-The banning of single-use plastic items and the integration of returnable eco-cups to limit the amount of trash on site.
-Use of sustainable, reusable, or compostable décor.
-Residual materials donated to Les Affûtés.
-Unsold edible products given to Accueil Bonneau.
-Distribution of an "eco-friendly guide" to exhibitors and volunteers.
-Deployment of a "green team."
The Museum also participates in various impact measures. In 2022, when the Market welcomed 78,000 people, 93% of the material produced during the event was diverted from landfill.
Through a partnership with RECYC-QUÉBEC, the Museum is encouraging members of the public to take some simple steps that will contribute to efforts to reduce waste and greenhouse gases (GHGs): use active transportation or public transit, bring a water bottle, and sort your trash.
Thank you to our partners
The Public Market of the 18th Century is a Pointe-à-Callière event, organized with the financial support of the Secrétariat aux relations avec les Premières Nations et les Inuit, the SDC du Vieux-Montréal, and Canadian Heritage, and through a partnership with the L'Union des Producteurs agricoles and RECYC-QUÉBEC.
About Pointe-à-Callière, Montréal's Archaeology and History Complex
Inaugurated in 1992, on the city's 350th anniversary, Pointe-à-Callière is today the largest archaeology museum in Canada and the busiest history museum in Montréal. Rising above a concentrated number of historic and archaeological sites of national significance—including the birthplace of Montréal—, the Museum has a mission to preserve its collections and to further knowledge, while showcasing and fostering an appreciation for Montréal's archaeological and historical heritage. This mission is carried out through various activities focused on conservation, research, presentation, education, and inclusion, along with community initiatives benefiting both Montrealers and visitors to the city.
Pointe-à-Callière, proud partner of the City of Montréal.
– 30 –
SOURCE: POINTE-À-CALLIÈRE, MONTRÉAL'S ARCHAEOLOGY AND HISTORY COMPLEX
MEDIA CONTACT:
Katia Bouchard, Director, Communications and Marketing
T.: 514 872-9124 / [email protected]