December, 2021
The Magic of Christmas meets the Wonderful World of the Circus at Pointe-à-Callière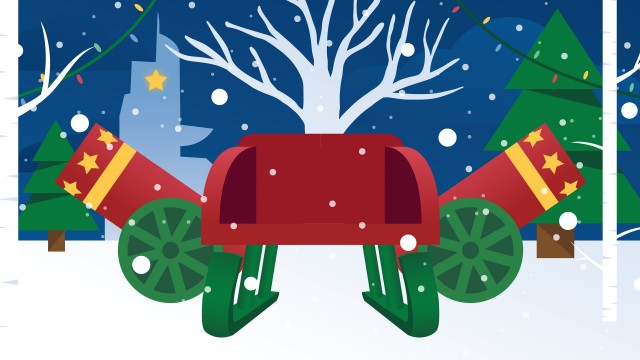 ---
Press release
THE MAGIC OF CHRISTMAS MEETS THE WONDERFUL WORLD OF THE CIRCUS AT POINTE-À-CALLIÈRE
The Museum is offering up an array of family-friendly activities for the holiday season
Montréal, November 5, 2021 – From December 11, 2021 to January 3, 2022, Pointe-à-Callière is presenting exhibitions and activities, both indoors and out, for fun times with family or friends!
The Holidays on the Point: A magical and contemplative break on Place Royale, in Old Montréal
Until January 3
Place Royale, Old Montréal
Free
Over the holiday season, passersby are invited to come take a break on Place Royale, in the heart of Old Montréal, which will be magically decked out to look like a royal forest. This rest zone, outfitted with Adirondack chairs and illuminated trees, is guaranteed to immediately get people in the Christmas spirit!
The area around the Museum will be closed to traffic until December 20, but decorations will stay up, extending the holiday magic until January 3.
Chance encounters on Saturdays and Sundays, December 11, 12, 18, and 19
From 11 am to 4 pm
A stop to warm up on Place Royale may lead to a chance encounter with four Christmas characters: Befana, St. Nicolas, Little Lucy, and—of course—Santa Claus himself! A great opportunity for children to learn about Christmas all around the world as they listen to these four characters tell their stories.
Exhibitions to get families moving and having fun !
It's Circus Time!
Presented until March 6, 2022, Pointe-à-Callière's new temporary exhibition invites you to delve into the fascinating and always surprising world of the circus, here at home and around the world. From early European and American troops to today's over-the-top shows, It's Circus Time! explores the history of this performing art that has been thrilling Québec for over 200 years.
An activity booklet is available to playfully guide families through this colourful exhibition and the 350 objects—some moving, some mind-boggling—on display.
Come Aboard! Pirates or Privateers?
The popular Come Aboard! Pirates or Privateers? exhibition was given a makeover in 2021, with Pointe-à-Callière offering a new interactive experience for 5-to-12-year-old adventurers seeking to put their minds and bodies to the test, get their sea legs, and learn if they've got what it takes to be a privateer!
Completely updated and improved, this family-friendly exhibition takes young people into the world of ship's captain Pierre Le Moyne d'Iberville—Canada's most renowned privateer. Through interactive games in an immersive atmosphere, children get to experience life aboard ship, in often highly imaginative ways!
Under the Big Top at Pointe-à-Callière: circus-themed creative workshops
During the holidays, Pointe à Callière is holding a series of creative workshops to coincide with the It's Circus Time! exhibition.
December 27 to 30 – 1 pm, 2 pm, 3 pm, and 4 pm
Museum Workshop – Educational Space – 350 Place Royale, Old Montréal
Ages 6 and up
Duration: 45 minutes
Reservation required. Activity included in the price of admission to the Museum.
Monday, December 27 – Tuesday, December 28 – Wednesday, December 29: Parents and children are invited to come build a carboard circus tent they can then use as a little pocket theatre. After decorating it with a banner and a string of pennants they make themselves, children will get to create a circus character using crayons, scissors, and glue. A different character is created each day: the tightrope walker, the hoop acrobat, and the human cannonball. Children can then bring the character to life by imagining a circus act and presenting it under their little big top!
On Thursday, December 30, another activity takes place: the building of a phenakistiscope (an optical toy that creates the illusion of movement) decorated with a juggling clown. After colouring the centre of the disc and the clown's clothes to their liking, children will put the device to work on a pinwheel and watch their clown come to life!
To take part in these activities, a vaccine passport is required for all individuals of ages 13 and up.
Thank you to our partners
Holiday programming is made available through the support of Québecor and the SDC du Vieux-Montréal.
About Pointe-à-Callière, Montréal Archaeology and History Complex
Pointe-à-Callière, the birthplace of Montréal, is the city's largest history museum. Rising above a concentrated number of national historic and archaeological sites, the museum's mission is to raise awareness and foster an appreciation of Montréal's history, and to forge bonds with regional, national, and international networks.
Pointe-à-Callière, Proud partner of Ville de Montréal.
-30-
Please contact us to request any photos or images.
Source:
Nora Charifi
Project Manager, Communications, Pointe-à-Callière
Tel: 514 872-2687 / Cell: 514 829-0955
[email protected]