March 2023
Temporary closure extended at Pointe-à-Callière, Montréal's Archaeology and History Complex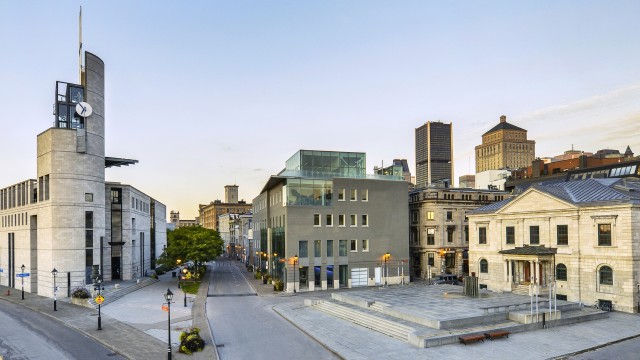 Photo: Caroline Bergeron
---
Press release
For immediate release
Temporary Closure Extended at Pointe-à-Callière, Montréal's Archaeology and History Complex
Montréal, March 17, 2023 – After a preliminary assessment of the situation following yesterday's fire in Old Montréal, Pointe-à-Callière, Montréal's Archaeology and History Complex, is temporarily closed and will reopen to the public on Wednesday, March 22. However, Fort Ville-Marie and the collector sewer will remain closed for the time being; their reopening date will be announced soon.
Bear in mind that the fire did not affect the Museum's facilities. A neighbouring building was destroyed by the flames. The smoke damage is yet to be evaluated.
Pointe-à-Callière visitors are asked to refer to the Museum's website and social media for further information. POINTE-À-CALLIÈRE (pacmusee.qc.ca)
About Pointe-à-Callière, Montréal's Archaeology and History Complex
Inaugurated in 1992, on the city's 350th anniversary, Pointe-à-Callière is today the largest archaeology museum in Canada and the busiest history museum in Montréal. Rising above a concentrated number of historic and archaeological sites of national significance—including the birthplace of Montréal—, the Museum has a mission to preserve its collections and to further knowledge, while showcasing and fostering an appreciation for Montréal's archaeological and historical heritage. This mission is carried out through various activities focused on conservation, research, presentation, education, and inclusion, along with community initiatives benefiting both Montrealers and visitors to the city.
Pointe-à-Callière, proud partner of the City of Montréal.
-30-
SOURCE: POINTE-À-CALLIÈRE, MONTRÉAL'S ARCHAEOLOGY AND HISTORY COMPLEX
MEDIA:
Katia Bouchard, Communications and Marketing Director
Cell: 514 912-1838 / [email protected]